Module objective
This module supports the synthesis of the preceding planning steps to help you develop an implementable heat action plan based on global best practices.
This step focuses on fostering inclusion, prioritizing strategies and developing an action plan with clear goals, roles, and responsibilities. It includes consideration of budgets and timelines, and phasing to seek approval or adoption and transition to implementation.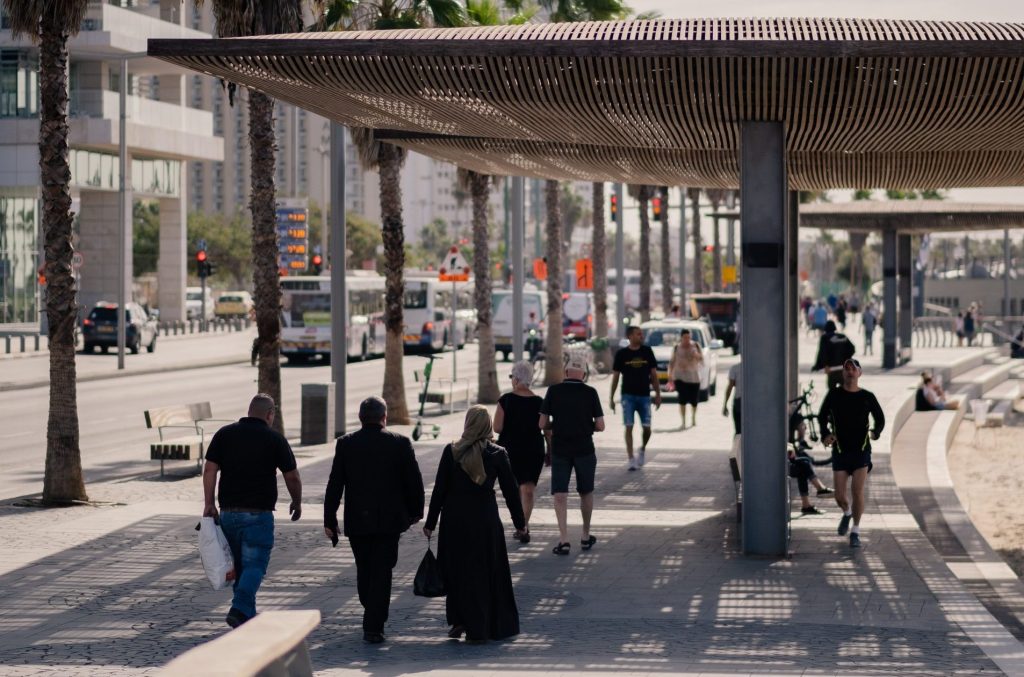 What is a Heat Action Plan?
A heat action plan is a document that integrates a portfolio of assessments and actions at different levels to respond to and reduce heat-related risks. The heat action planning process should bring together a broad set of actors from different sectors to increase coordination and collaboration at the preparation, response, and recovery stages of heat disaster management. These plans may include both short-term and long-term measures, and often contain an agreed-upon plan of action outlining roles and responsibilities between departments/sectors, both internal and external to a municipal or national government.

Setting the context
Heat Action Plans often begin by defining the heat-related challenges that the jurisdiction faces– in essence, setting the context for why planning and action are necessary. Two commonly referenced types of data are
the number of heat wave days (or extremely hot days), and any trends in frequency, and
heat mapping or vulnerability mapping, which respectively identify exposure to heat and vulnerability of specific populations or neighborhoods.
See below for other examples of risks and impacts a plan might include, from current events to more formal studies and climate modeling.
Impact of extreme heat in the region
Heat-exposed populations
To help identify and prioritize interventions, Heat Action Plans typically include a population analysis, which highlights key demographics that are particularly at risk to negative consequences of extreme heat. This analysis is commonly in the form of a:
vulnerable populations table, which enables public officials to devise more targeted interventions by identifying populations at risk due to heat-exposure, therefore minimizing the negative impact of extreme heat on the most vulnerable (See the Andhra Pradesh, India Heat Wave Action Plan), or
vulnerability mapping analysis, which enables planners to combine population vulnerability (based on age, income, etc.), heat and geographic data to identify which regions require more resources/interventions (See the New York City Heat Vulnerability Map).
Existing heat-related plans, protocols and systems
Local and regional governments often have many existing plans that either reduce or exacerbate urban heat. For example, urban tree canopy plans, hazard mitigation plans, or comprehensive plans may already be in place. Practitioners should be familiar with these plans and work to recognize and build on them in a Heat Action Plan. This will also acknowledge any community input and investment that has gone into prior planning efforts.
Plans can also acknowledge the heat-related protocols and systems such as heatwave thresholds or early warning systems that are already in place within a jurisdiction, to outline the environment within which an action plan will be developed and carried out.
Heat Wave Thresholds: given there is no universal definition of a heat wave across geographies, heat wave thresholds define what constitutes a heat wave based on local temperatures in a given region
Early Warning Systems: categorizes heat warnings into a tiered, often color-coded, system of alerts to keep the public and relevant partners notified of heat wave conditions
Resources
Karachi Heat Action Plan (2017)
For an example of a definition of regional heatwave thresholds used in Pakistan for heatwave management, see page 21 of Karachi's Heat Action Plan
Western Sydney Heat Action Plan (2018)
For an example of a multi-year heatwave days analysis leveraging daily maximum temperatures, see page 9 of the Western Sydney Turn Down The Heat Strategy and Action Plan
Adaptation strategies to manage extreme heat
Types of interventions
Planning/Policy: new regulations, codes or action plans
Communications/Outreach: campaigns to raise public awareness or provide critical services for heat wave management
Green/Natural infrastructure: nature-based greening and water solutions
Building/Built form: introduction of new standards or infrastructural upgrades for buildings
Extreme heat management timeline
Whilst long-term interventions can be ongoing throughout the year, it is important to outline when other extreme heat interventions should be deployed within a given heat event and/or heat season.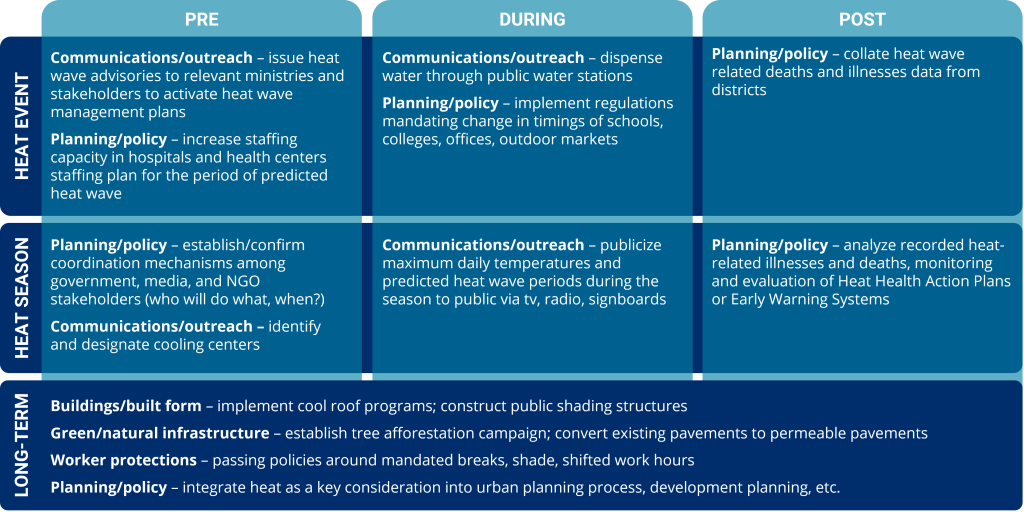 For further resources to identify extreme heat interventions for your region, please see the following Heat Action Platform modules: Develop an Education & Engagement Strategy, Explore Heat Adaptation Solutions or Heat Action Platform Policy Tool
Defining roles & responsibilities/building an action plan
Primary responsible agency/officer & key duties
A primary responsible actor, either a designated officer or responsible ministry within government, must be identified when devising a Heat Action Plan to coordinate the development, activation, implementation and monitoring of the plan across all stakeholders.
List of ministries and civil society partners
Comprehensive heat action planning should be a whole-of-government effort in partnership with locally embedded civil society partners to ensure a multi-pronged, community-oriented response to extreme heat.
For example, the California Heat Action Plan included the Environmental Protection Agency, Labor & Workforce Development Agency, Department of Public Health, Department of Water Resources, and Health & Human Services Agency as partners (a non-exhaustive list). Alternatively, the Telangana Heatwave Action Plan included the Disaster Management Authority, Animal Husbandry & Fishery Department, Public Health & Family Welfare Department, Indian Meteorological Division, Labor & Employment Department, Transport Department, School Education Department and Urban Development Department as partners (a non-exhaustive list)
Mapping interventions to responsible actors
To ensure all accountable actors are aware of their responsibilities for short- and long-term interventions, heat action plans should include a table identifying responsible actors for each agreed intervention.
Resource
Bihar Heat Action Plan (2020)
For an example of a table mapping key interventions to responsible departments prior to and during heat events, see pages 31 to 39 of the Bihar Heat Action Plan
Implementation timeline for extreme heat interventions
To chart out a clear path forward for implementing interventions, heat action plans should include an implementation timeline for short- and long-term interventions across both heat season and heat events.
Resource
Western Sydney Heat Action Plan (2018)
For an example of a detailed implementation timeline of heat interventions mapped to a multi-year timeline, see page 20 of the Western Sydney Turn Down the Heat Strategy and Action Plan
Financing solutions
Heat action plans should identify financing solutions for key short-, medium- and long-term interventions to ensure recommendations are financially feasible within fiscal constraints.
Governance
Cadence of review for Heat Action Plans
To ensure heat action plans are living documents that reflect both the extreme heat conditions as well as vulnerabilities relevant at the time, plans should be revised at a regular cadence. As such, as part of the Heat Action Planning process it is recommended to identify and agree on a cadence (yearly, every 2 years) for review of the plan with all key stakeholders.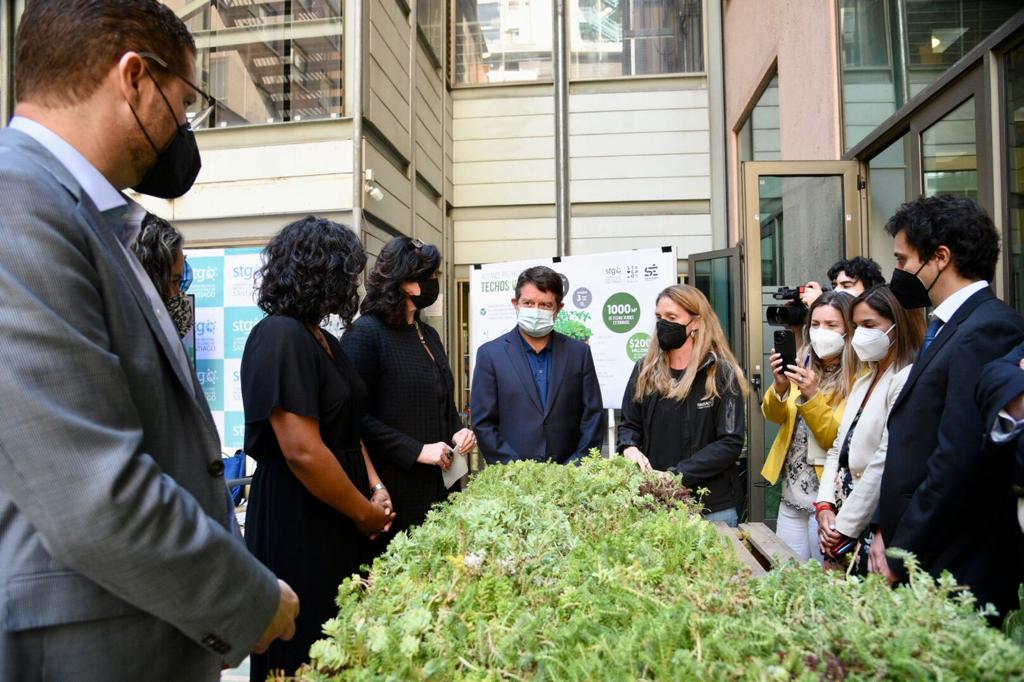 Reporting heat-related health impacts
To address gaps in knowledge on causes and severity of heat-related death and illnesses, reporting formats can be included as part of Heat Action Plans to ensure consistency and comprehensiveness of data collection across health and demographic factors contributing to heat-related deaths and illnesses.
Monitoring & evaluation of Heat Action Plans
To ensure plans are achieving their intended goals, heat action planning should establish a monitoring and evaluation process including key performance indicators, timeline for monitoring (monthly, quarterly, yearly) and the main responsible party conducting the assessment.

A successful Heat Action Plan…
Grounds interventions in the needs of the most vulnerable by listening to and incorporating community input into intervention planning
Takes a whole system approach considering initiatives from revising building codes to public health preparedness measures
Mainstreams heat planning into regional urban planning through embedding heat interventions in existing regulatory frameworks and planning processes
Identifies a responsible heat champion that can advocate for and drive the implementation of interventions to mitigate the impact of extreme heat
Establishes and monitors clear metrics to track the progress of interventions in reducing the negative impacts of extreme heat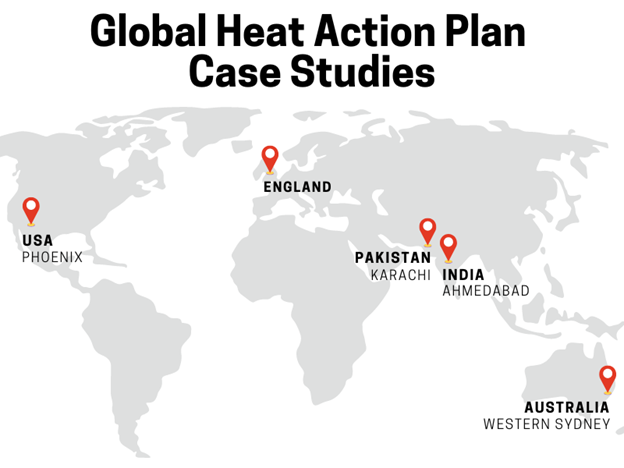 Assess current extreme heat conditions and at-risk populations in the region to guide prioritization of interventions based on local needs
Relevant Heat Action Platform resources:
2. Identify key stakeholders
Identify key stakeholders such as ministries and civil society organizations to co-develop the Heat Action Plan to ensure that extreme heat management is a whole system effort
3. Align priority interventions
Define and align on priority interventions across the extreme heat management timeline (short-term interventions for heat season and heat events as well as long-term interventions) with key stakeholders through working sessions
Relevant Heat Action Platform resources:
4. Define accountable parties & timeline
Identify the primary responsible owner for each intervention and timeline for implementation through collaborative working sessions where stakeholders can take ownership for relevant interventions and establish any limitations they may have for implementation timelines
5. Ratify Heat Action Plan
Draft and ratify the Heat Action Plan through socialization sessions with relevant stakeholders to ensure buy-in from all key partners on agreed interventions
Relevant Heat Action Platform Resource:
6. Assess ground-level feedback
Collect and synthesize ground-level implementation data and feedback to identify areas of improvement and track progress against key performance indicators or success metrics identified in the plan
Relevant Heat Action Platform resource:
7. Iterate Heat Action Plan
Assess and improve the Heat Action Plan with inputs from implementation data and stakeholder feedback to ensure plans are up-to-date and catered to current local needs
You've completed Create a Heat Action Plan.
Either continue exploring the "Plan" modules below or jump ahead to the "Implement" or "Assess" phases.
Please contact Kurt Shickman, Director of Extreme Heat Initiatives at the Adrienne Arsht-Rockefeller Foundation Resilience Center, at kshickman@atlanticcouncil.org if you have any questions.
Continue navigating the Heat Action Platform Modules