Module Objective
Develop an Education and Engagement Strategy provides guidance on creating a strategy to raise awareness about extreme heat risks, informed by the assessments of heat risk awareness and vulnerability undertaken in the Assess phase. The goal of this step is to develop education and engagement strategies that bring community members into the planning process early to ensure they shape the goals, values, and priorities for the planning phase. Building on stakeholder identification in the preceding modules, the engagement and education strategy will define stakeholder roles and identify opportunities for partnership. For each identified stakeholder, you will also need to define the appropriate level of input or engagement and engagement method.
Identifying and engaging with community members and in particular "hard-to-reach" groups in the community is an essential component of this step. Language, age, gender, race and ethnicity, geographic location, religion, among other identities should be considered when creating an inclusive education and engagement strategy. After developing the strategy, you should continue to iterate on it over time based on effectiveness.
You can advance this step in parallel with Explore Heat Adaptation Solutions and Fund and Finance Heat Action. This step should be initiated prior to or as a component of Create a Heat Action Plan.
Socially-isolated community members
Socially isolated and other vulnerable populations are at greater risk of health emergencies during heat waves. Programs to check in on these populations can reduce heat-related illness and emergencies by having people designated to check in on individuals.
Non-native language speakers
Non-native language speakers may not be able to access the latest heat warnings and information on staying safe during heat waves.
Low-income communities are often geographically clustered in areas that are most exposed to extreme heat.
The importance of an education and engagement strategy
Awareness of extreme heat as a health risk is often alarmingly low, particularly among populations that are at greatest risk due to heat, including the elderly. The end goal of this strategy should be to increase levels of awareness among the public and key stakeholders, particularly the communities who are the most likely to be harmed, and to provide advice and guidance on actions and approaches that the public and key stakeholders can take to protect themselves and others.
Awareness of extreme heat as a health risk is alarmingly low.
Resources on communicating heat risk and biodiversity:
Communicating Heat Risk
Experiences from C40's Cool Cities Network
For a guide and examples on communicating heat risk, see pages 2-3 and 5-11 of Communicating Heat Risk produced by C40.
Biodiversity Action Plan
For an example of the goals of Helsinki in communicating the benefits of biodiversity and why it feels it is important, see pages 30-33 of the city's Biodiversity Action Plan.
Elements of an education and engagement strategy
Clear goals and objectives around the target audience and outcomes of heat risk communications.
Identified "plan of action" that includes stakeholders, communications channels and vehicles, such as spokespersons.
A timeline that considers the most effective moments or phases in which to communicate to the public in advance of and during heat waves.
Consideration of existing communications plans and how to integrate heat risk communications to avoid contradictory messaging.
Risk communication products and materials that are accessible, credible, and personally relevant.
Integration with heat risk and impact reduction projects, such as opening of cooling centers, early warning alerts, and other social programs.
Resources on communicating about heat risk:
Communicating the Health Risks of Extreme Heat Events
For how to communicate extreme heat risks in a high-income country, see Communicating the Health Risks of Extreme Heat Events produced by Health Canada.
Extreme Heat Toolkit
For talking points government leaders might use on extreme heat in high-income countries, see pages 10-12 of the Extreme Heat Toolkit produced by the Wisconsin Climate and Health Program.
Identifying your target audience
The target audience should be drawn from either a pre-existing vulnerability assessment or the output of the previous module, Identify Heat-Related Vulnerabilities and Impacts. Communication and education strategies might be aimed at high-risk populations, or the people and institutions who interact with high-risk populations on a regular basis, such as care homes, schools, government agencies, and more. More broadly, the strategy can target four levels of audience organization:
Heat-vulnerable individuals
Social networks
Organizations
Communities and/or societies
Identifying specific characteristics of heat-vulnerable individuals is key to designing tailored efforts to reach them with information and guidance for how to protect themselves during heat waves. As women, especially pregnant women are more vulnerable during periods of extreme heat, special efforts should be made to ensure women received education and outreach regarding heat dangers.
Resources on communicating to vulnerable groups:
Safety in the Heat
For examples of how to communicate to workers regarding extreme heat, see Safety in the Heat: A Comprehensive Program for Prevention of Heat Illness Among Workers in Abu Dhabi, United Arab Emirates produced Joubert, Thomsen, and Harrison (2011).
Beginning a heat risk communications campaign
Campaigns should begin months in advance of a heat season, in order to have sufficient lead time to make people aware of how to protect themselves and other during the upcoming summer. Campaigns can be thought of as occurring over three phases:
Before the heat season
During the heat season
During an extreme heat event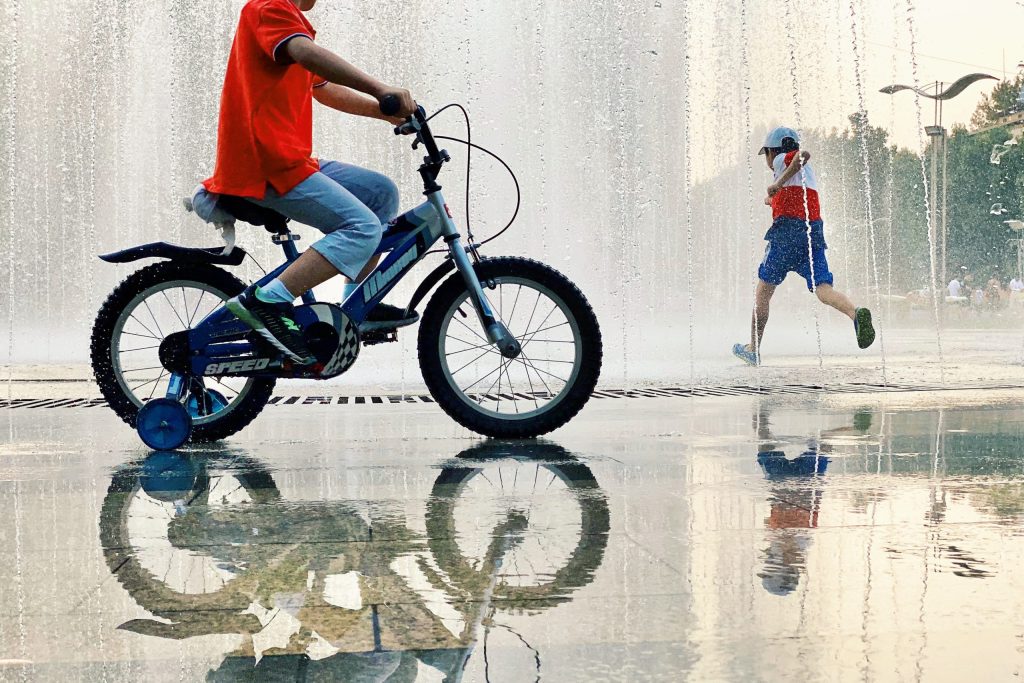 You've completed Develop an Education and Engagement Strategy.
Either continue exploring the "Plan" modules below or jump ahead to the "Implement" or "Assess" phases.
Please contact Kurt Shickman, Director of Extreme Heat Initiatives at the Adrienne Arsht-Rockefeller Foundation Resilience Center, at kshickman@atlanticcouncil.org if you have any questions.
Continue navigating the Heat Action Platform Modules