Module Objective
This step will support you to identify effective policies and interventions for heat risk reduction and preparedness that are applicable to your local context. During this step, you will identify the partners and resources required for successful design, implementation, and monitoring of solutions.
Selected heat adaptation solutions should directly address the vulnerabilities and impacts identified in the Assess phase. Before selecting a solution, outline the current context and potential opportunity: e.g., your locality is an urban center with a high-level of density and at risk for extreme heat; there is strong buy-in from stakeholders and government partners to address heat risk; and the city is due to update its building codes. This information will help you understand which solutions are applicable for your context.
You can advance this step in parallel with Develop an Education and Communications Strategy and Finance and De-Risk Heat Adaptation Projects. This step of Exploring Adaptation Solutions should be initiated prior to or as a component of Create a Heat Action Plan.
Beginning to identify heat resilience solutions
It is helpful to explore and discuss what measures are appropriate in your context with community leaders, subject matter experts, and the other stakeholders you have identified. Some measures can have lengthy implementation timeframes and/or high costs and may not be appropriate in the near-term. Establishing what measures are most appropriate for your climate and geography is a solid baseline, and then moving to the implementation timeframe and economic capital available will clarify the options available.
Recognize common barriers to solutions and develop a plan to address them. Key barriers include:
Lack of Awareness
The local community may not be aware of the impact of heat, and view it as unimportant or business as usual. Conducting a vulnerability assessment, as discussed in a previous module, will quantify and bring to the fore the impact of heat, both in terms of health and economics. Having this information on hand will help if members of the community downplay the dangers of heat.
Resource:
Planning for Urban Heat Resilience
For information on setting urban heat goals and how to develop a framework around your planning efforts, see pages 38-42 of Planning for Urban Heat Resilience from the American Planning Association.
Beating the Heat
For a description of common barriers to urban cooling and how to overcome them, see pages 34-38 from the Beating the Heat handbook developed by the Cool Coalition, the UN Environment Programme, RMI, Global Covenant of Mayors for Climate & Energy, Mission Innovation and Clean Cooling Collaborative.
Financial Restrictions
Adaptation and mitigation solutions can be quite expensive; communities may feel their limited resources are better spent elsewhere. Conducting a vulnerability assessment and making clear the damage heat is causing will help focus policymakers' attention on using resources to address the impact of extreme heat.
Ideally, a whole-system framework is the best approach for dealing with the dangers of extreme heat. Addressing zoning challenges around extreme heat is a good opportunity to examine other opportunities for zoning improvements. Advancing extreme heat measures to protect people also improves the public health of the community. Developing energy-efficient buildings not only protects the population from extreme heat, but can reduce the community's economic and energy challenges. When addressing extreme heat concerns, consider what other challenges your community faces and how heat policies can address them.
Resource on heat and biodiversity:
Urban Ecology and Biodiversity Strategy
For information about Melbourne's effort, to protect and increase biodiversity, in part to moderate heat, see the Australian city's proposed actions on pages 22-30 in its Draft Urban Ecology and Biodiversity Strategy.
Also consider taking an integrated multi solution approach rather than deploying a single solution. The mix of solutions appropriate for your locality will vary by your location and context, but a portfolio of solutions will tend to have a greater impact than investing in one approach.
Resource on heat and urban planning:
Planning for Urban Heat Resilience
For a planning matrix on urban heat resilience from a North American perspective, see page 73 of Planning for Urban Heat Resilience from the American Planning Association.
For some communities, district cooling may be an option to explore. If the community is large enough and dense enough, it may be more cost efficient to explore district cooling measures. Newer construction zones are most appropriate for this solution as existing infrastructure is difficult to adapt to district cooling. Additionally, it is a significant infrastructure investment that only provides returns over the long term. However, if your district is appropriate for this tool, it may reduce overall costs for the district, be energy efficient, and address social inequities by providing cooling across the entire district.
Resources on heat adaptation solutions:
Ramboll and C40 Cities' Analytical Tool
For a tool to identify solutions for your city, see the Heat Resilient Cities benefits tool offered by Ramboll, a Danish company and C40 Cities.
European Assessment Maps
For a specific focus on nature-based solutions to address extreme heat, see the Urban Nature Navigator tool on Assessment Maps site, offered through a project funded by the European Commission.
Nature-Based Solutions Handbook
For a list of benefits and multi-functionality in adaptation solutions from small to large scale, see pages 59-61 of the Nature-Based Solutions Handbook by Think Nature.
Beating the Heat
For information on:
The ease of implementation and the impacts of common cooling solutions in cities, see pages 56-57; and
District cooling, see pages 102-105.
In the Beating the Heat handbook developed by the Cool Coalition, the UN Environment Programme, RMI, Global Covenant of Mayors for Climate & Energy, Mission Innovation and Clean Cooling Collaborative.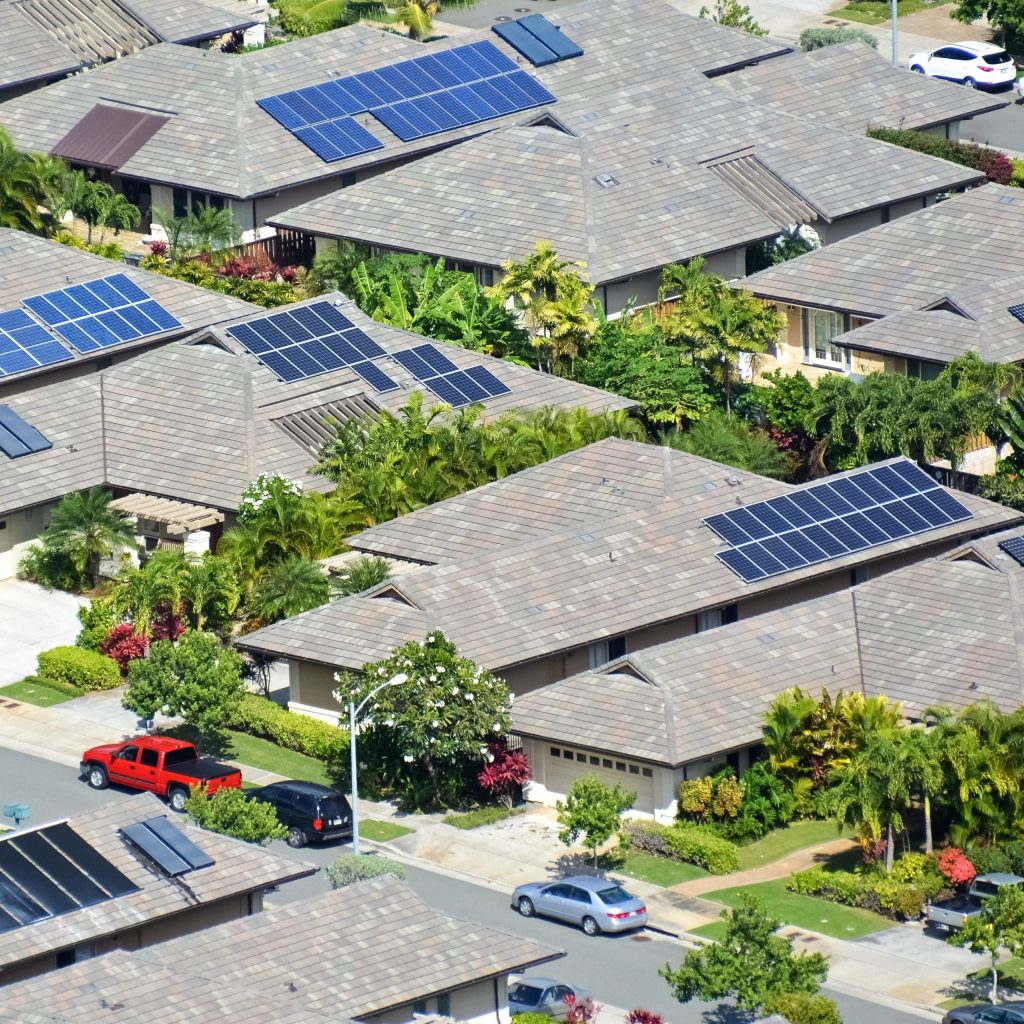 Common preparedness and adaptation solutions
Active vs. Passive Cooling
There are a variety of tools and solutions available to mitigate extreme heat. They generally fall into two measures, active cooling and passive cooling. Active cooling refers to heat reduction mechanisms that use energy to dissipate heat, while passive cooling refers to a broad range of building materials and natural solutions that reduce indoor air temperatures and, when deployed at scale, outdoor air temperatures. Examples of active cooling include air-conditioning, fans and district cooling, and passive cooling includes interventions would be changing the roof surface of a building so more sunlight is reflected and less heat is absorbed into the building, or adding shading on windows or around buildings.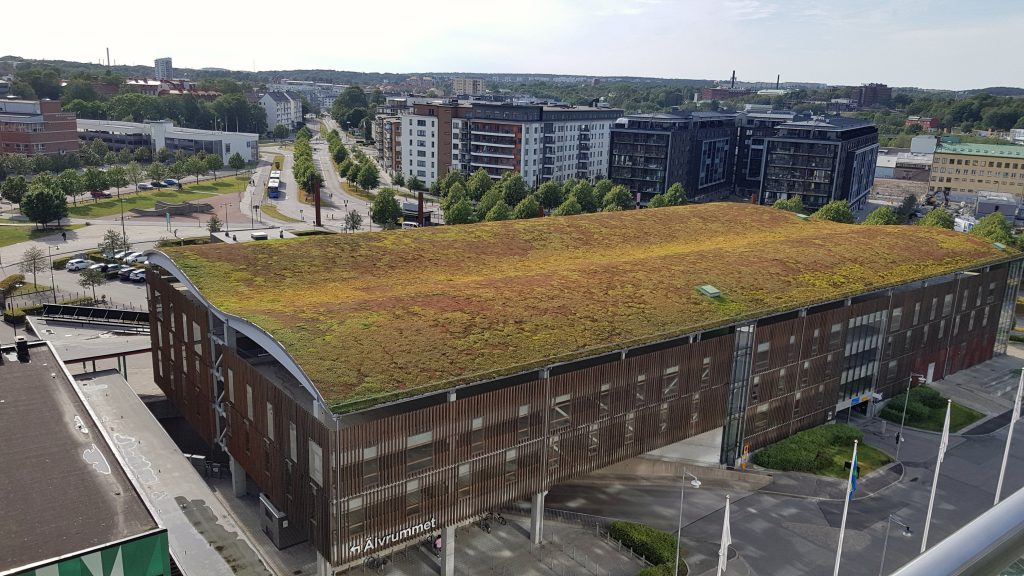 Active cooling is typically adjustable, so this may be useful on extremely hot days, especially for vulnerable people. However, these active measures consume energy, and high energy costs may limit use for low-income populations. Additionally, many populations lack access to air-conditioning altogether or the energy grid that would be required to support such extensive use of active cooling measures. Finally, the use of air-conditioning only increases the overall heat of an area (known as "waste heat") and the energy costs associated with mechanical cooling (e.g. fans, air-conditioning) can have deleterious effects on the environment as well.
Passive cooling measures such as cool roofs, cool pavements, or improved building design to reduce heat retention may have higher up-front construction costs than conventional materials and design measures are rarely adjustable for extraordinarily hot days. However, there is little to no energy cost associated with these measures over the long term and they can be deployed across the world, including where robust energy grids are unavailable. There are many passive cooling options available, from low-cost to higher cost, and the choices should reflect your local environment. For example, expanding urban forests can have a significant heat reduction impact, but in low water/drought-prone environments, building design improvements may be more appropriate.
Resources:
Beating the Heat
For information about passive cooling including
A graphic and the core concepts of passive cooling principles see page 25; and
Descriptions of passive cooling options, with pros and cons listed, see Chapters 6 and 7.
The Beating the Heat handbook was developed by the Cool Coalition, the UN Environment Programme, RMI, Global Covenant of Mayors for Climate & Energy, Mission Innovation and Clean Cooling Collaborative.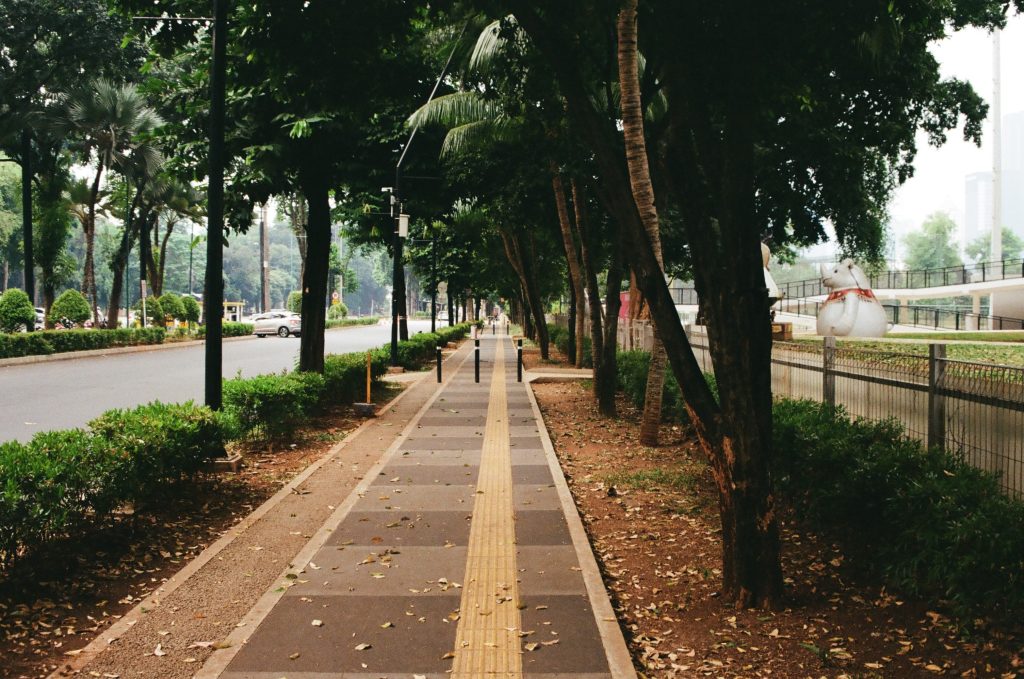 Urban Greening
Increasingly, urban trees are mentioned as one potential solution that can help cities adapt, by reducing ambient air temperatures. Trees cool the air primarily by shading surfaces such as concrete and asphalt, preventing heat storage, as well as by transpiring water, increasing the fraction of heat going to latent rather than sensible heat. These reductions in air temperature by urban trees can have significant health impacts. One modelling study of US cities quantified that urban tree canopy reduced mortality by around 1,200 lives annually.
Resources on urban green infrastructure:
Cities 4 Forests
For the benefits of urban forests, both cooling and otherwise, see this Cities 4 Forests discussion.
How Urban Trees Can Save Lives
For examples of return on investment from urban greening in Jakarta, Indonesia, and Atlanta, in the United States, and other cities, see How Urban Trees Can Save Lives on the Nature Conservancy website.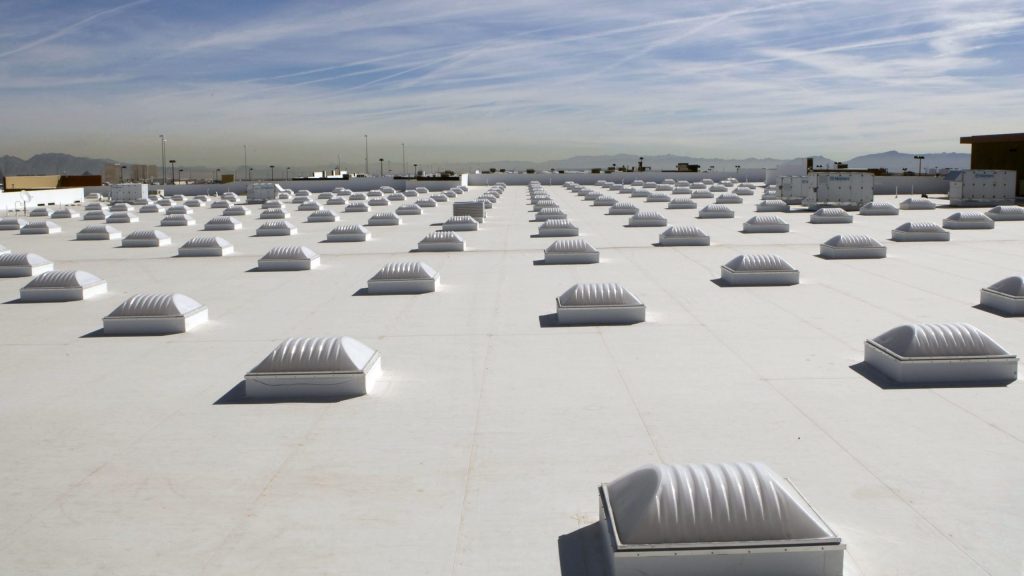 Cool Roofs, Walls and Roads
Most of urban surfaces -60 percent- are covered by roofs or pavements, and many of these surfaces are less reflective, resulting in greater absorption of sunlight and conversion of solar energy into heat.
Resources on cool roofs:
Cool roofs
Increasing the reflectivity of rooftops can reduce temperatures of buildings by 40° Fahrenheit, according to the city of Philadelphia Energy Coordination Agency. In areas where high temperatures lead to increased air-conditioner use and significant electricity demand, cool roofs can reduce peak power use and save residents money on energy bills.
Roofs with high levels of reflectivity are not necessarily white roofs. New roofing materials exist that are strongly reflective but are red, green, or grey in color.
Over time, cool roofs will naturally become less reflective due to collected dust, dirt, and other substances. In spite of this, aged cool roofs are still significantly more reflective than conventional roofs.
Cool pavements
Though conventional, dark paving materials can reach extremely high temperatures, particularly in the summertime, options exist for more reflective or permeable pavements that stay cooler. The reduction in maximum temperatures may result in increased durability, and lighter pavements can increase visibility at night, resulting in safer streets.
Permeable pavement (i.e., pervious concrete, porous asphalt, reinforced grass pavements) are naturally cooled through the evaporation of moisture.
Early Warning Systems
You may be familiar with these systems for extreme weather, such as storms or flooding. Using similar warning systems for extreme heat, especially when paired with guidance for the population on how to respond, has had significant success. Consider what messages will be most likely to reach people and trigger behavioral changes, especially among the most vulnerable. A key factor in this is identifying the trusted messengers in your community who can communicate well with specific populations.
Resource on heat early warning systems:
Heatwaves and Health
For a technical guide on developing a heat early warning system, see the World Health Organization and World Meteorological Organization's joint publication, Heatwaves and Health: Guidance on Warning-System Development.
Social programs and interventions
Several cities have had success in utilizing existing community engagement to better respond to heat challenges. Community partners often have on the ground knowledge of who is the most vulnerable and should be checked on during a heat wave.
Resources on social programs:
Be a Buddy
See the Be a Buddy program on page 23 of New York City's "Cool Neighborhoods" report, as a US-based example of community outreach.
Block Captains
See the Block Captains program in Philadelphia as another a US-based example of strengthening neighborhoods.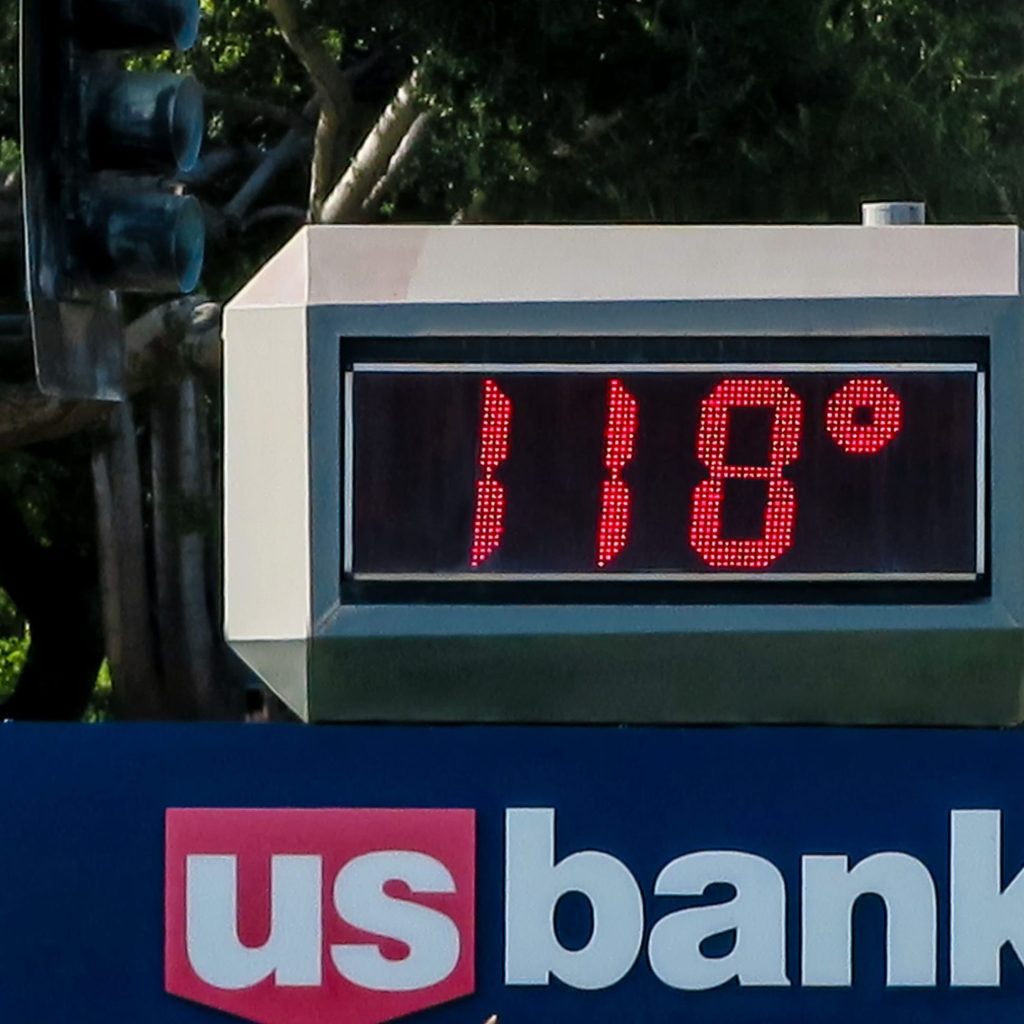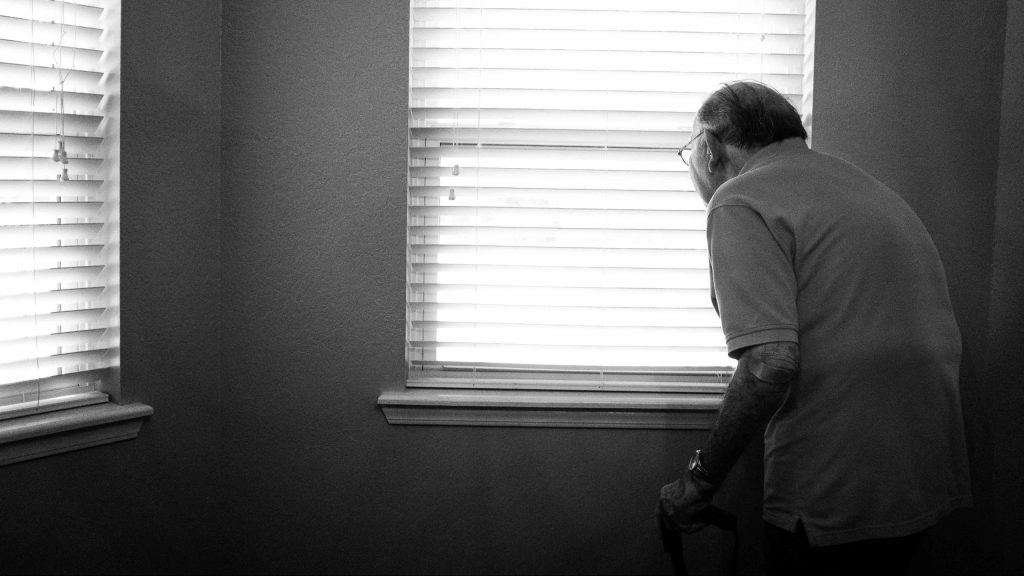 You've completed Explore Heat Adaptation Solutions.
Either continue exploring the "Plan" modules below or jump ahead to the "Implement" or "Assess" phases.
Please contact Kurt Shickman, Director of Extreme Heat Initiatives at the Adrienne Arsht-Rockefeller Foundation Resilience Center, at kshickman@atlanticcouncil.org if you have any questions.
Continue navigating the Heat Action Platform Modules