Building heat resilience in Freetown, Sierra Leone
Freetown, Sierra Leone, is taking the lead to grapple with extreme heat in this fast-expanding African city. This week, in collaboration with Arsht-Rock, Mayor Aki-Sawyerr will appoint a Chief Heat Officer, a city official focused on heat and protecting the well-being of city residents.
By Kathy Baughman McLeod, CDKN Global Wed, Oct 20, 2021
Urban heat: A global threat with unequal impacts
July 2021 was the hottest month recorded on Earth. With rapidly-rising temperatures and more than half of the world's population living in cities, urban heat is already life-threatening. On average, cities are 5 to 9 degrees Celsius (9 to 16 degrees Fahrenheit) hotter than rural areas, making residents of urban centres more susceptible to heat-related hazards, illnesses and death.
Far more deadly than other climate-related hazards, extreme heat is known as a 'silent killer,' striking without the same visibility and destruction that accompanies floods and hurricanes. It causes heat illness and exacerbates pre-existing chronic illnesses, such as heart and lung-related ailments. The lives and livelihoods of young children, the elderly, pregnant and nursing women, disabled individuals, and informal outdoor workers – some of the most vulnerable and marginalised groups in cities – are disproportionately impacted by urban heat.
While nations across the globe are grappling with the socioeconomic consequences of extreme heat, countries in Africa face some of the most severe heat-related risks. These dangers will only grow. The World Meteorological Organization predicts that over the next three years, Africa will experience continued warming, especially over North and Southern Africa.
In Freetown, the capital city of Sierra Leone, the local government has by necessity adapted to the mudslides, hurricanes and heavy rains that threaten its residents. Now, Freetown's mayor, Yvonne Aki-Sawyerr, is taking on extreme heat.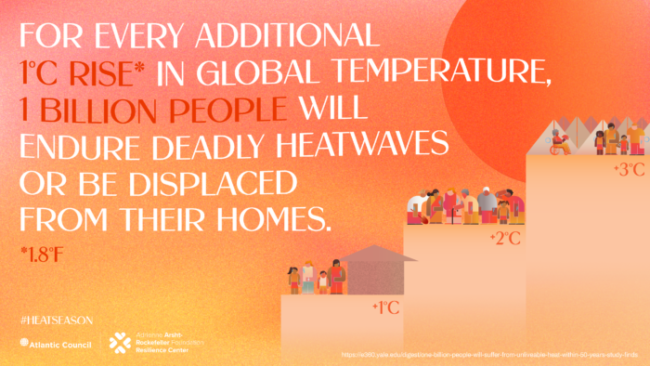 Preparing for extreme heat in Freetown, Sierra Leone
In Sierra Leone, heat drives multiple climate-related threats. In urban areas like Freetown, heat amplifies the negative health impacts of air pollution, which often contribute to respiratory and circulatory system illnesses.
Heat magnifies drought during the dry season while intensifying the impacts of the rainy season. During Sierra Leone's dry season, higher temperatures contribute to drought by boosting moisture evaporation from the soil while exacerbating health hazards, such as freshwater shortages and wildfires. In the rainy season, higher temperatures sustain the proliferation of vector-borne diseases such as malaria due to consistent heat, rainfall, flooding and humidity, creating the perfect conditions for biting insects to breed. Agricultural labour demand increases during Sierra Leone's rainy season and compounds these hazards, making farmers and other outdoor labourers more susceptible to heat stress.
The built environment of Freetown absorbs and later radiates heat, generating an urban heat island effect that increases the likelihood of heat-related illness and mortality. The city's growing population and high demand for housing have led to a rise in the construction of informal settlements, which often experience higher temperatures and heat indices than other areas. As of March 2020, there were 68 informal settlements in Freetown, which housed around 35% of the city's population. As a result, a large portion of Freetown's residents are particularly susceptible to extreme heat.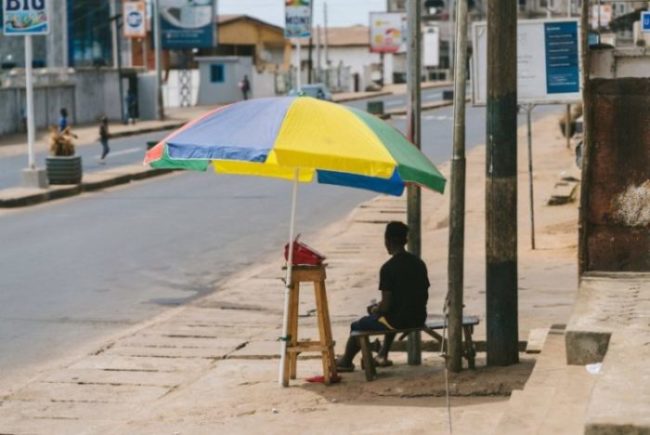 To ensure that someone senior in her administration is solely focused on reducing the risks and impacts of heat and protecting Freetown residents, Mayor Aki-Sawyerr will appoint a Chief Heat Officer on Wednesday, October 20th, 2021.
The creation of this role and two other similar appointments in Miami, Florida in the United States and Athens, Greece, are in partnership with the organisation I lead, the Adrienne Arsht-Rockefeller Foundation Resilience Center at the Atlantic Council, and the global Extreme Heat Resilience Alliance (EHRA), which we launched in August 2020. As Mayor Aki-Sawyerr said in April, by joining EHRA's City Champions for Heat Action initiative and appointing a Chief Heat Officer, she seeks to "build dedicated capacity to protect vulnerable people and livelihoods from rising temperatures and to help build a culture of preparation and prevention."
Freetown's Chief Heat Officer will help the city save lives and livelihoods from extreme heat
The Chief Heat Officer role, first created in April 2021, tasks a city official with waking up every day focused on heat and the well-being of city residents. Chief Heat Officers raise awareness of extreme heat risk, coordinate across stakeholders to prompt better planning and response to heat waves, and support the implementation of long-term heat risk-reduction and cooling projects. Chief Heat Officers also help break down the silos between the many city governments that do work related to heat, including public health departments, fire departments and sustainability offices, among others.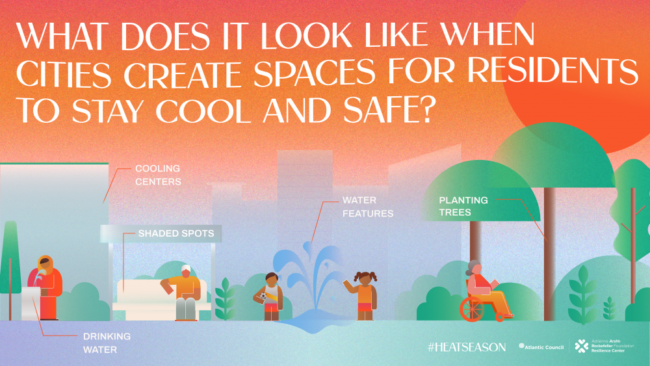 Chief Heat Officers will become increasingly critical in cooling a rapidly-warming world. Each Chief Heat Officer faces vastly different challenges depending upon the political, socio-economic and environmental context in which they work. In Freetown, one of these challenges may be quantifying the risk that heat poses, given the scarcity of available data on this hazard.
Which strategies can be used to increase heat resilience in Freetown, Sierra Leone and globally?
In May 2020, nearly three years after Freetown's lethal 2017 landslide, Mayor Yvonne Aki-Sawyerr launched the #FreetownTheTreetown initiative to plant one million trees over the next two years. While planting trees can curtail soil erosion, reduce carbon dioxide emissions, cool neighbourhoods, and lower urban heat risk, there are many other approaches to increasing heat resilience.
Other nature-based solutions, including green and blue infrastructure such as green roofs, 'pocket parks,' and water features, can cool ambient air temperature in a community by 2 to 4 degrees Celsius (4 to 9 degrees Fahrenheit) during warmer months. But a leading reason behind heat being a global 'silent killer' is the widespread lack of awareness of its negative health impacts. In addition to nature-based infrastructure solutions, we urgently need to increase public understanding of heat-related risks and provide cities with resources to prepare for heat waves before they occur.
Heat action plans and vulnerability assessments are a good early step and should be accompanied by other educational and financing approaches. One innovative approach that Arsht-Rock has proposed is naming and categorising heat waves, which would increase the public awareness of and preparation for when temperatures rise to dangerous highs. Another is forecast-based parametric climate risk insurance—which would provide rapid resources for communities when a disaster is predicted to reach a predefined threshold—to enable cities to better prepare. Chief Heat Officers are best positioned to explore such approaches to cooling their cities and tailor them to their specific heat-related challenges, climate, and capacity.
In Athens, recently appointed Chief Heat Officer Eleni Myrivili is devising strategies to raise awareness of heat-related health hazards, prioritising the protection of the city's most at-risk people by establishing heat-resilient infrastructure like cooling centers and green and blue spaces for city dwellers.
In Miami-Dade County, Jane Gilbert will lead a Climate and Heat Health Task Force comprised of public health, science, and business experts. The task force will identify the health impacts of heat across the county, launch campaigns to inform Miami residents of heat-related hazards, deploy resilience centers where people can cool down during heat waves, and raise awareness about workplace solutions for vulnerable workers, particularly outdoor laborers.
In this new role, by implementing innovative, resilience-focused policies for combating extreme heat, Freetown's Chief Heat Officer can increase the community's heat resilience and help save lives and livelihoods. And on November 2nd, Mayor Aki-Sawyerr will participate in an event led by my organisation in the Resilience Hub at COP26 to discuss this important announcement with the other mayors who have made similar appointments. I applaud Mayor Aki-Sawyerr's leadership in prioritising action on extreme heat in Freetown—and urge other cities to follow suit.
We have what we need to turn down the heat. By working together to face this challenge, heat will be the "silent killer" no more.
Photo: Hillside in Freetown, Sierra Leone. Photo courtesy of Kurt Cotoaga on Unsplash.
This article was originally published on cdkn.org on 18th October 2021.