Fighting extreme heat with parametric insurance: protecting the livelihoods of women in India's informal economy sector
The Extreme Heat Income Micro-Insurance, Arsht-Rock's new parametric insurance product, will help 21,000 women in India cover wages they would otherwise lose due to climate-driven extreme heat.
Working women in a warming world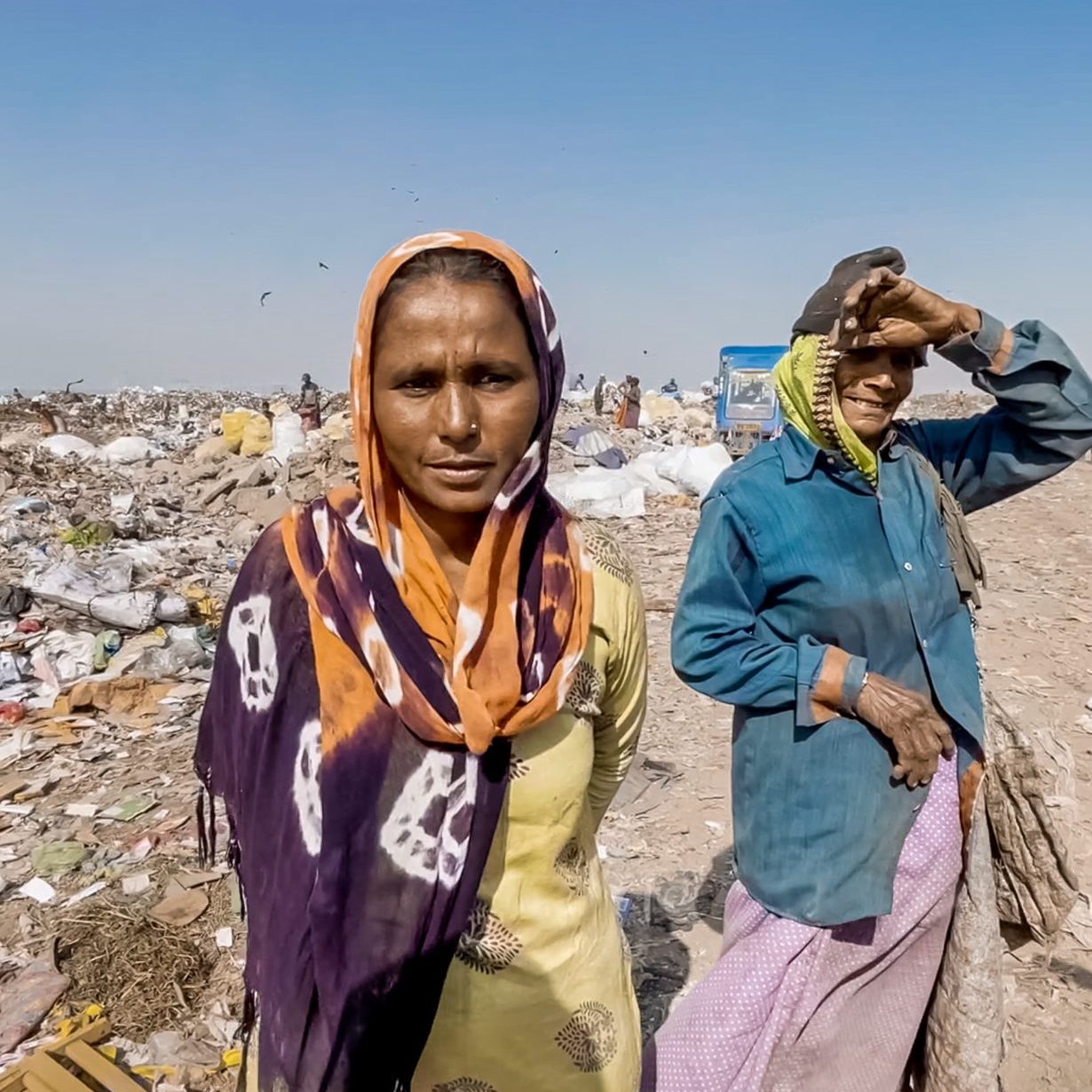 Manju was just 10 when she and her siblings began working as waste recyclers to sustain their family's income after the loss of their father. She is now a mother herself and has been working at the same waste dumpsite her whole life, sorting through piles of refuse to collect any recyclable items so she can sell them—earning between 200 to 250 rupees per day. Her life, and the lives of all women working there, is precarious.
Extreme heat is exacerbating the other dangers she faces—constantly breathing the fumes and dust from the dump trucks and other poisonous gasses expelled into the air from the decomposing trash. As she works, she needs to constantly keep an eye on the dozens of wild dogs, also digging through the trash, since many of them are rabid and could bite her if not careful.
Yet, they are familiar, she's even given them names since they too depend on the piles of trash for their survival. Manju is one of 2 billion people, more than 60% of the world's workforce, that earns their livelihoods in the informal labor economy.
Globally, 58 percent of working women are employed in the informal economy. In developing countries, that figure rises to 92 percent. Women—and their incomes—are profoundly and disproportionately impacted by climate change, particularly extreme heat, which claims more lives than any other climate hazard. Economic inequalities including lack of access to education, resources, assets, and decision-making power, compounded by cultural practices and social norms, critically constrain women's ability to adapt to climate change.
For women like Manju, whose jobs are often in the most insecure and low-paid categories of the informal economy such as waste recycling and street vending, climate-driven extreme heat creates grueling working conditions. When intense heat waves strike, outdoor workers face the impossible choice between pausing their work and staying cool— thereby protecting their health, but losing income—or earning money, putting their health at risk. As critical earners for their families, even one day of lost wages could be detrimental, especially considering that women typically reinvest 90 percent of their income back into their communities.
Safeguarding the progress of 2.5 million women
Like her mother, Manju, became a member of the Self-Employed Women's Association (SEWA), a 50-year-old Indian trade union that has grown to 2.5 million women members. SEWA helps its members build a safety net and start their journey out of poverty. Its members are mostly self-employed, working across 125 different trades including salt pan mining, waste recycling, street vending, farming, construction, and home-based work.
With India's informal sector accounting for 93 percent of the country's labor force, SEWA plays a critical role. For five decades, SEWA has organized women workers in the informal economy, supporting them with all aspects of financial independence from establishing individual bank accounts and providing access to credit through SEWA's own cooperative bank to supporting waste-recyclers like Manju access their ID cards to enter the dumpsite and collect waste as official workers. 
But climate-driven extreme heat further strains SEWA's members' health and financial security, threatening the fragile, but significant, progress they are making. In Ahmedabad, India, Manju and her fellow waste recyclers are exposed to temperatures upwards of 54.4 degrees Celsius (130 degrees Fahrenheit) with little or no access to shade, water, or toilets.
Prolonged exposure to extreme temperatures has resulted in debilitating heat-related illnesses, which has become a leading cause of sick days. SEWA members have reported heat cramps; heat exhaustion; dehydration symptoms such as nausea, vomiting, dizziness, sunburns, and blisters; dermatological issues resulting from handling metal machines and walking barefoot; and other heat-related illnesses that impact their health and ability to work. 
Excessive temperatures have also reduced the working hours of nearly all women, forcing them to stay at home or take long breaks between 1 PM and 4 PM. With clear health and livelihood impacts, climate-driven extreme heat has depleted many workers' limited savings.
Extreme Heat Income Micro-Insurance: A shield against the scorching sun
To ensure that the women of SEWA do not have to choose between protecting their health or their family's financial security, Arsht-Rock, SEWA, and Blue Marble co-created the Extreme Heat Income Micro-Insurance. Extreme Heat Income Insurance is a parametric insurance product designed to help women in India proactively recover income lost due to climate-driven extreme heat events.
Taking into account multiple meteorological variables—including temperature, humidity, and recent nighttime temperatures—the parametric insurance product triggers an automatic payment to members' bank accounts when extreme heat thresholds are forecast and/or reached and it is deemed unsafe to work. The payment trigger is assessed by an algorithm inspired by Arsht-Rock's Heat Health Science Panel and the practitioners at Blue Marble.
The parametric tool is designed to pay out multiple times in one heat season to replace income—currently estimated at $3 per day— before and/or when the heat event occurs. In the pilot phase, the premium will be paid by the program, not by the women participants, with a local insurer offering the cover. For equity reasons, there will be a nominal program fee for participants.
What is parametric insurance?
Parametric insurance is an insurance policy that pays claims when a triggering event happens, like a certain wind speed in a hurricane or a temperature that lasts for a specific amount of hours or days, payment is delivered, unlike a homeowners policy that is based on the assessed value of actual loss after the event (called an indemnity policy). Parametric insurance provides pre-established cover for climate and other disasters. This allows insurers to pay claims rapidly and proactively, ensuring the maximum opportunity for preparation and recovery.  
A bright future, despite the heat
The Extreme Heat Income Insurance will pilot in April 2023 and target 21,000 SEWA women across seven trades—salt pan miners, waste recyclers, street vendors, farmers, ship breakers, construction, and home-based workers. As the program evolves, Arsht-Rock, SEWA, and Blue Marble will explore solutions that include personal accident, maternity care, and disability insurance. The partners will also invest in heat early warning systems and practical products that will further protect women, like heat-resistant hand tools and gloves.
Local-scale, global impact
The climate resilience tool is Arsht-Rock's Cool Capital Stack's (CCS) most recent investment, with an initial $500,000 to cover the premium and design of the product. Critically, Arsht-Rock will function as the primary fundraiser to source and attract additional capital required to scale.
Ultimately, "the goal is to scale to the entire 2.5 million SEWA member community that spans 18 states and beyond," says Arsht-Rock director Kathy Baughman McLeod. "Arsht-Rock, SEWA, and Blue Marble are specifically designing the pilot to cover a variety of occupations and risks to facilitate the efficient and speedy rollout to additional geographies beyond Ahmedabad in future heat seasons."
Learn more about the Cool Capital Stack
Related content