These five video games are taking on climate change
Mon, Jun 5, 2023
Through games, you can learn about the climate solutions that build resilience in your community.
At Arsht-Rock, our goal is to meet people where they are with climate resilience solutions. Nearly three billion people play video games every day. We can reach them through the games they already care about, and share localized climate policy solutions in ways that do not just build the educational value of the games, but actually make them more engaging to play.
How Arsht-Rock is revolutionizing gaming
Video games can transport players into a new climate reality. In these virtual worlds, gamers are invited to experiment with adaptation solutions and consider their responses to threats like extreme heat. Integrating climate resilience solutions into gameplay allows users to interact with complex and sometimes scary information in an accessible way. By fighting monsters, building habitats, or restoring a digital town, players are given the resources, language, and knowledge they need to bring about change in the real world.
Since 2020, Arsht-Rock has provided funding and content assistance to indie game developers. We can better incorporate climate science and resilience solutions into gameplay with our partners. Using a three-tiered strategy – partnering with AAA gaming companies, providing support for indie developers, and establishing a Gaming Center of Excellence to equip game development professionals with resilience resources – Arsht-Rock aims to reach 300 million players across the globe by 2030 through games like the five below.
Five games making players more resilient
1. ECO by Strange Loop Games
Let's play! Collaborate with other players to build a civilization where every move you make impacts the environment, for better or worse. You'll experience real climate and ecosystem simulation models when you use the knowledge you've gained to write and enact policies to help your communities. Learning from the data, you can enact laws and policies that can prevent a global catastrophe.
How did Arsht-Rock help? Arsht-Rock gave Eco its very first indie game grant in 2020. We worked with Strange Loop Games to develop climate interventions in the game and inform the climate policy options. For instance, you can interact with real-time data visualizations of resources and weather patterns to make informed decisions to mitigate and build resilience to climate change.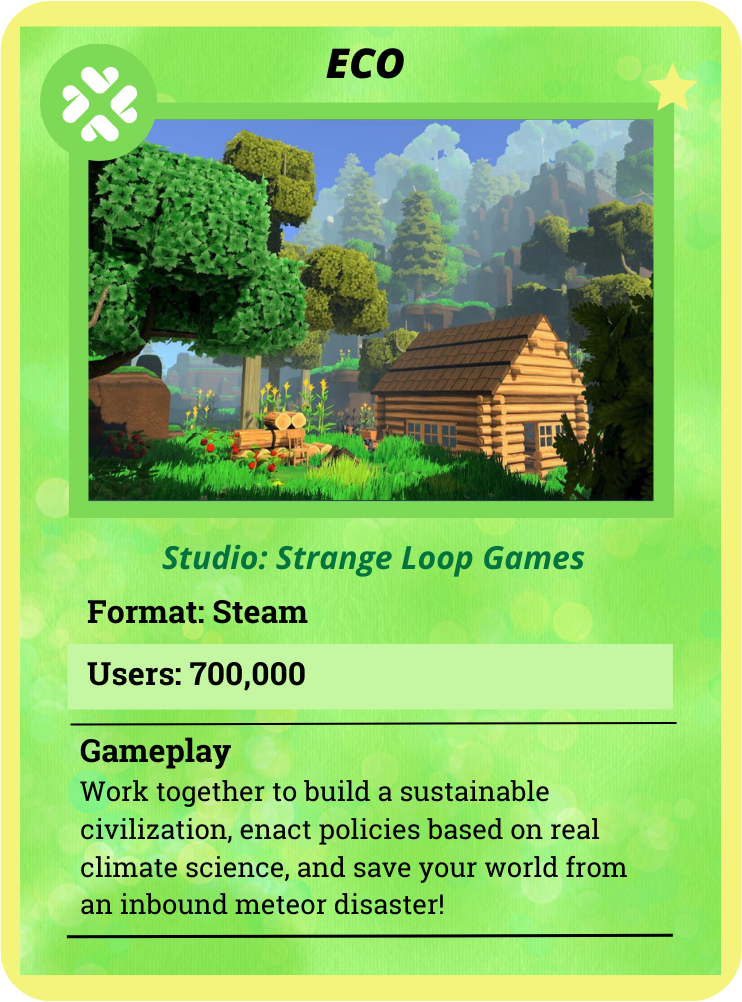 2. Garden Story by Rose City Games
Let's play! In this wholesome adventure game, you set off to restore your community as Concord the Grape. You'll fend off monsters known as 'the Rot' as you explore the whimsical island. To keep your town safe, you have to gather materials, repair your town, and then prepare to battle the Rot.
How did Arsht-Rock help? Rose City Games received Arsht-Rock grants in 2021 and 2022 to implement real world solutions to climate change. Now, you can build shade covers to protect your virtual community from heat or revive old wells to build water security. These solutions help you understand how to build climate resilience. We also provided funding to localize Garden Story in eleven languages, bringing these solutions to players around the world.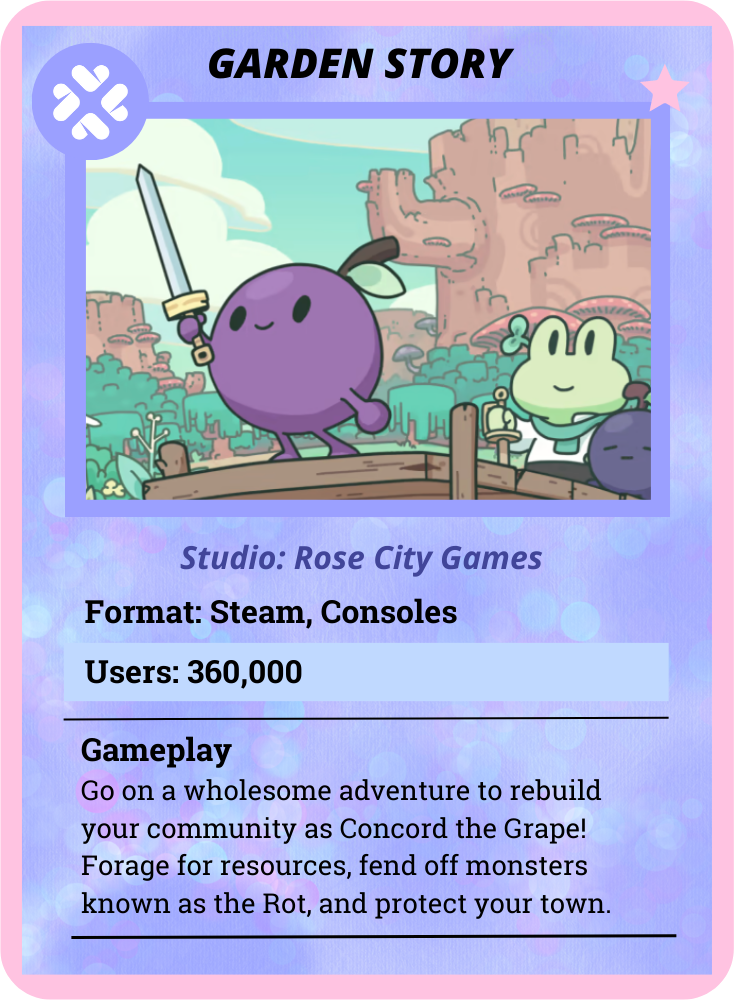 3. Wildlife Sanctuary by Dibs Studio
Let's play! In this cozy mobile game, you'll rescue endangered animals and restore their natural habitats. You get to collect resources to protect everything from red pandas to polar bears. You'll construct a safer environment while becoming a wildlife expert and protecting the animals from a changing climate.
How did Arsht-Rock help? Arsht-Rock provided grant funding to Wildlife Sanctuary in 2022 and worked with Dibs Studio to implement extreme heat resilience solutions. Now, you can play with sustainable solutions like solar panels and rooftop gardens. You'll also complete daily climate resilience quizzes, and receive Climate Prep Care Packages at key milestones.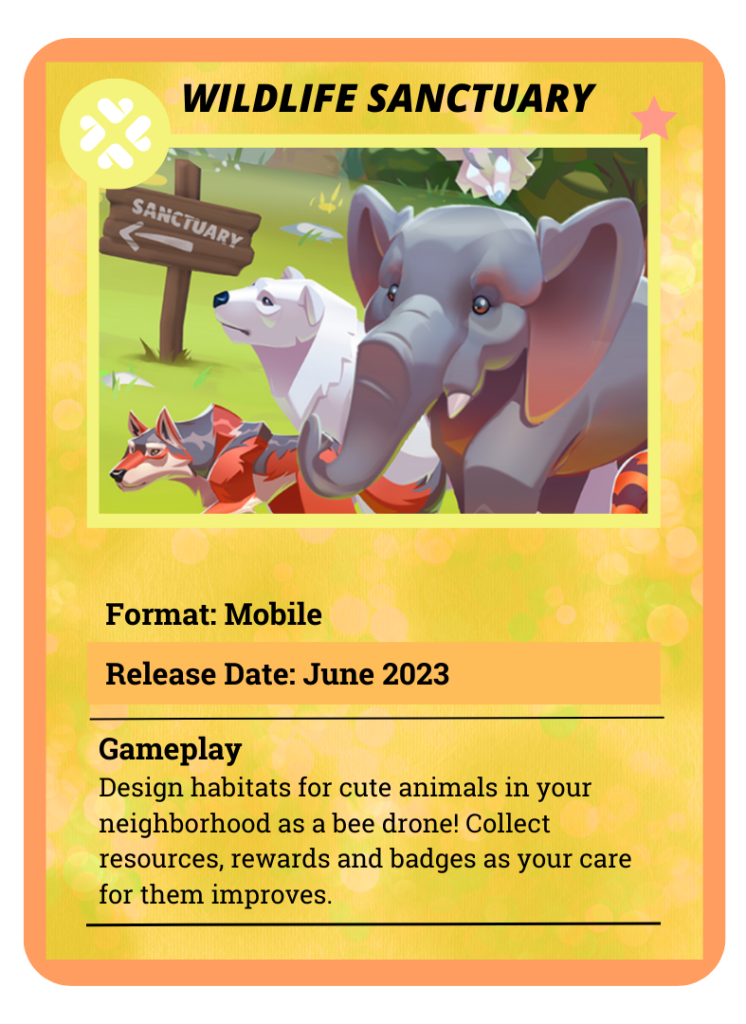 4. Daybreak by CMYK
Let's play! In this cooperative board game, you work with your fellow players to avoid 1.5°C of warming, the threshold set by the Paris Agreement. You'll use technologies and policies to reduce global warming, and scan the QR codes to learn more about them! As you protect the communities through climate resilience interventions, you'll learn about interplay between mitigation and resilience.
How did Arsht-Rock help? CMYK received Arsht-Rock grant funding in 2023 to develop a how-to-play video that explains the technologies and policies featured in Daybreak. We also supported the development of a website where you can learn about climate resilience and mitigation solutions in an accessible and engaging way.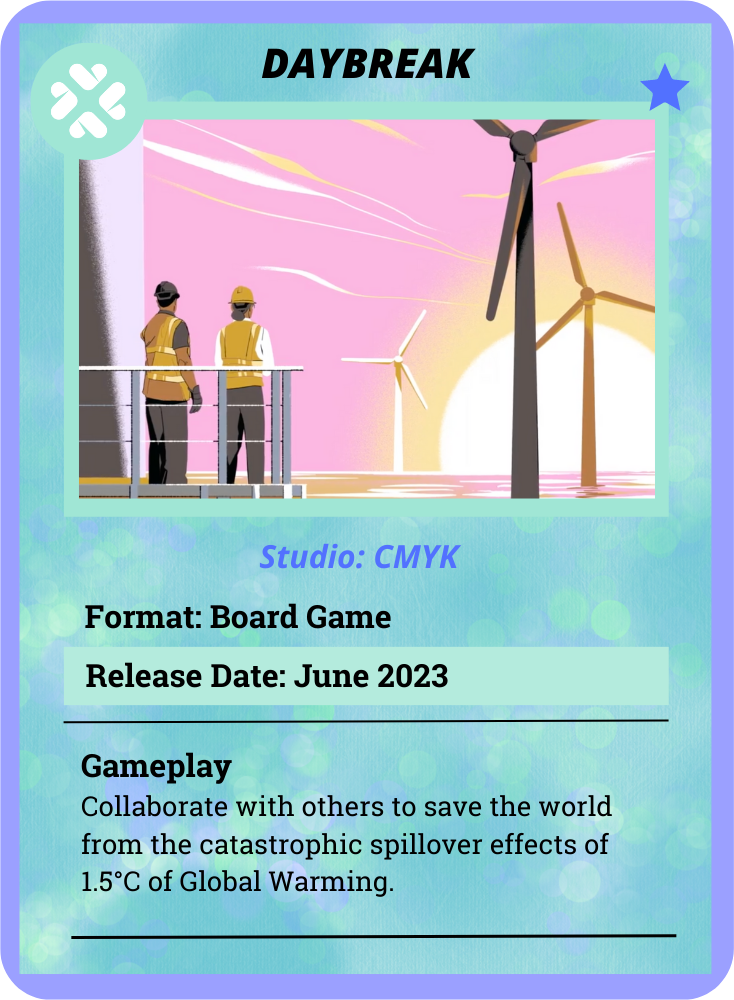 5. Martial Arts Tycoon: Brazil by Good Dog Studios
Let's play! In this game, you're Lucas, the new owner of a jiu-jitsu gym in a Brazilian favela. When you take over the gym, you have to manage your fighters' training regimens and get to know their strengths and weaknesses. You can build your gym's reputation while serving the needs of your local community.
How did Arsht-Rock help? Created by Nonresident Senior Fellow Chance Glasco, Martial Arts Tycoon: Brazil features Arsht-Rock's categorization and naming system for heat waves. Heat waves are categorized into three levels to help you understand the risks. When you send your fighters to train in the middle of a level three heat wave, depending on their age and underlying health conditions, they will lose hit points. As you play, you'll learn how to protect your fighters—and yourself —during extreme heat events.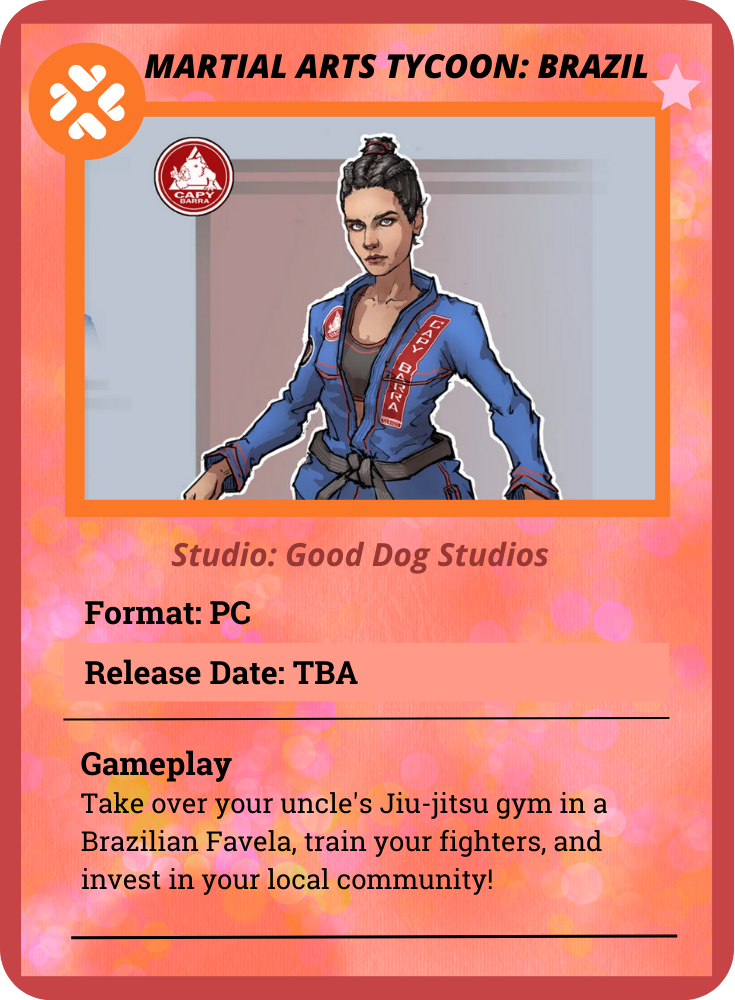 Browse the trailers
Explore More