Arsht-Rock launches second year of categorizing and naming heat waves in Seville, Spain
Fri, Apr 21, 2023
Spearheaded by the Adrienne Arsht Rockefeller Foundation Resilience Center, in collaboration with Seville City Council and the University of Seville, this initiative to categorize and name heat waves will transform Seville into an urban laboratory for resilience in the face of climate change. The next two dangerous heat waves will be named Yago Sevilla and Xenia Sevilla, in an effort to raise public awareness of heat and facilitate heat response and decision-making.
Para Español, haz clic aqui
SEVILLE, SPAIN — April 21, 2023 — Today, the Adrienne Arsht-Rockefeller Resilience Center (Arsht-Rock) launched the second year of proMETEO Sevilla, its naming and categorization pilot for heat waves in Seville, Spain. The pilot categorizes heat waves based on their expected health impacts, with special emphasis on their impact on at-risk communities.
The system was designed and tested during the summer of 2022 by Arsht-Rock, in collaboration with the University of Seville and Seville City Council. In the second year of the pilot, Arsht-Rock and its partners will continuously monitor data and send information about dangerous heat episodes and heat waves to increase the public's awareness of extreme heat and to encourage public administrators to prioritize heat wave responses. The pilot will position Seville as an urban laboratory for resilience in the face of climate change.
The proMETEO Seville categorization system monitors and examines the weather forecast based on local, historical meteorological data, as well as health and mortality data to determine when heat becomes dangerous. Arsht-Rock's team of experts developed an algorithm that analyzes heat episodes and identifies the possible risks and health impacts based on key variables, including: maximum temperature; minimum temperature (especially nighttime temperatures); relative humidity; the duration of the heat episode; and the meteorological data in the 30 days preceding it.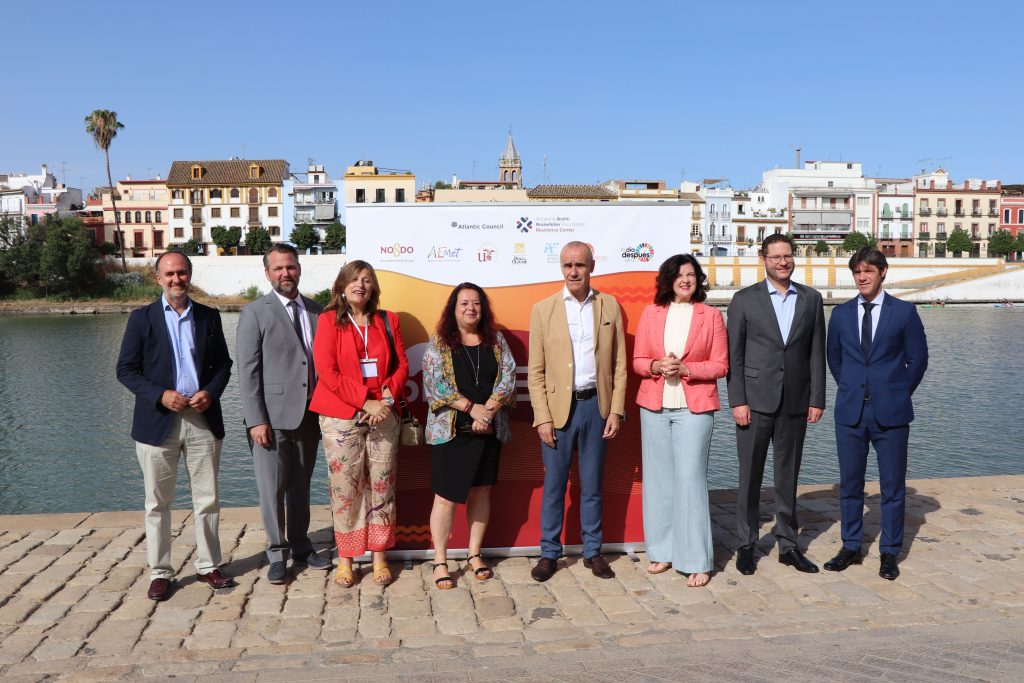 Under the categorization system, extreme heat episodes will be categorized according to their possible health impacts, The system will then classify the heat wave into one of five levels: very high risk, high risk, medium impact, medium-low impact, and no impact. Heat waves with the greatest potential impact will be named in descending order from the last to the first letter of the Spanish alphabet. The predesignated names for this year's possible heat waves are Yago Sevilla and Xenia Sevilla, which follow last year's Heat Wave Zoe, which was named before the July 24th to 26th heat wave.
New methods of communication and coordination around heat waves
This summer, the Seville City Council, through its Health, Urban Habitat and Citizen Participation branches, will link early response measures to each heat wave category. They will improve early warning systems and heat wave notifications, and provide extreme heat education in senior living communities and other spaces with high concentrations of vulnerable groups. The City Council will also refine proMETEO's website and social platforms to better share recommended preventive and protective measures for high risk individuals (people over 65 years of age, pregnant women, children and infants, people with pre-existing medical conditions or chronic diseases, dependents, or marginalized groups). The publications will also emphasize that no one is immune to extreme heat; even the youngest and most physically fit people can be severely affected by high temperatures.
Seville: The forefront of climate resilience
The proMETEO pilot project places Seville at the global forefront of the fight against climate change. It is predicted that heat waves will negatively impact 75 percent of the global population in the next century if no action is taken. The City of Seville wants to address one of the most important challenges humanity faces today with real, actionable measures. The proMETEO Seville pilot project represents an opportunity to create a city that is prepared to withstand climate-driven extreme heat.
Seville, alongside Athens (Greece) and Santiago (Chile), is working with the Adrienne Arsht-Rockefeller Foundation Resilience Center to categorize and name heat waves. These cities are committed to protect their communities, economies, and infrastructure from the consequences of climate-driven extreme heat.
About the Adrienne-Arsht Rockefeller Foundation Resilience Center
The Adrienne Arsht-Rockefeller Foundation Resilience Center (Arsht-Rock) builds individual and community resilience in the face of climate impacts. We pledge to reach one billion people around the world with resilience solutions to climate change by 2030.  For more information, please visit https://www.onebillionresilient.org/ or follow us on Twitter and LinkedIn.
Explore more