About Community Resilience Pods
Arsht-Rock is partnering with cities and communities around the world to deploy the Community Resilience Pods. These community assets empower people and communities to prepare for and confront climate shocks and stressors.
As a safe place to go in a time of crisis, the Pods can be quickly deployed to help communities not well-served by existing preparedness programs with food, aid, water, financial literacy, and mental health support during extreme weather events and public health emergencies. Visitors of the Pod will find – through physical and digital displays—location-specific risks and guidance, resources, and tools to be prepared, get connected and take action. The mobile and scalable Pods reflect and engage the community around them using interactive art and educational storytelling, advocacy and public service campaigns.
The first mobile prototype, a 40-foot shipping container completely powered by solar and donated by the Mediterranean Shipping Company (MSC), was deployed in Miami-Dade County in 2020. Its immersive experience and vibrant art focuses on building new knowledge and climate resilience skills to improve lives within Miami's most vulnerable communities.
Arsht-Rock aims to create an additional 3 pods to scale a similar effort across Florida and potentially expand to other cities in the US and globally.
What challenge do the Community Resilience Pods address?
Whether it's sea-level rise, extreme heat, severe storms or flooding, climate change is disrupting lives around the world. Vulnerable populations are at even greater risk since they do not have the adequate resources needed to withstand climate shocks and stressors. Localized, up-to-date and relevant information is urgently needed to protect lives and help build safer and more resilient-ready communities.
Building stronger, safer, and more resilient communities
The Community Resilience Pod represents the potential for critical risk and resilience actionable information for communities across the country and around the world facing storms, floods, wildfires, food insecurity and the health and economic impacts of Covid-19. Our Community Resilience Pod in Miami-Dade County provides essentials while safely educating and responding to the needs of the community.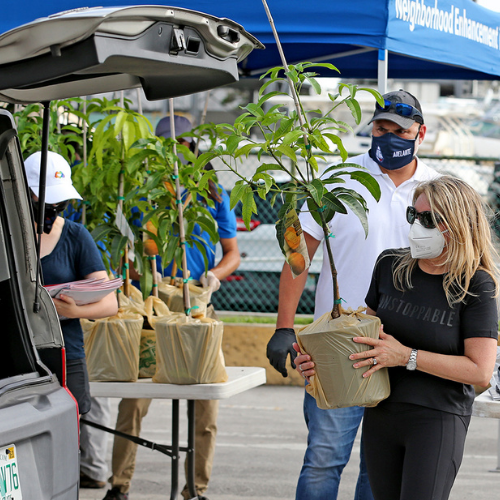 Combating food insecurity in response to COVID19
In response to COVID-19, the Community Resilience Pod turned its attention to food insecurity. In partnership with Miami-Dade County, City of Miami, and one of the state's largest food distribution organizations, Farm Share, our team was able to reach thousands of Miami-Dade residents by providing food boxes, fruit trees, and vegetable seedlings.
As the community grows more familiar with the Pod, we are finding people are comfortable sharing personal stories of coping during the pandemic, with many expressing a new or renewed interest in growing their own food, planting gardens, planting trees, and wanting to be better prepared for future disruptions and societal shocks.
Local resilience solutions to extreme weather
Through immersive experiences (both direct public-facing programs as well as digital engagement online) the Pod builds new knowledge and climate resilience skills to improve the lives within Miami's most vulnerable communities.
We provide vital multi-lingual emergency information as well as essential items so families can better prepare for storms and heat waves. The Pod incorporates the power of visual arts stemmed from scientific data into our programs, and to inspire hope for a more promising future.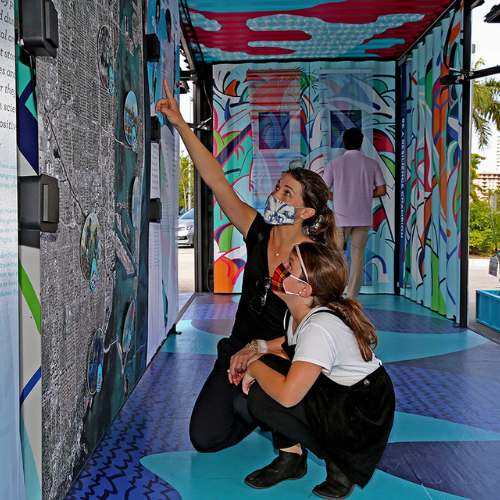 Our Community Resilience Pod in action
Explore More