How does a health-based heat wave categorizing and naming system work?
Arsht-Rock's health impact-based categorizing and naming system highlights the dangerous effects of heat on human health by anchoring public awareness campaigns to a tiered category system.
Climate change and urbanization continue to increase the intensity, frequency, and duration of heat waves. By 2050, an estimated one billion people will be exposed to lethal heat waves. To respond to the threat of extreme heat, heat warning systems—which provide advance warning of conditions that can be dangerous to public health—have become more essential than ever.
When cities implement health-based heat warning systems, local authorities can better communicate heat risk, increase the flexibility of their emergency response, and highlight the human health and economic damage caused by heat waves. In turn, communities know what to expect when the temperature rises and how to respond. These warnings let people know when a hot day will be dangerous to their health and which steps to take to keep themselves and their communities safe and cool.
To help cities and their residents become more resilient to heat, the Adrienne Arsht-Rockefeller Foundation Resilience Center (Arsht-Rock) is working with international partners to pilot heat-health warning system that categorizes and names heat waves. Unlike systems for other disasters, Arsht-Rock's system is based on expected negative health outcomes of the weather forecast that are specific to the city the system is operating in, not just the weather conditions alone.
This article explains how Arsht-Rock's health-based heat wave categorizing and naming system works, how it interfaces with existing warning systems, who will implement it, and protocols for doing so. It also highlights cities that have begun categorizing and naming severe heat waves.
How does a health-based heat wave categorizing and naming system work?
Arsht-Rock's health-based heat wave categorizing and naming systems have three key components that enable local authorities and responders to prepare and deploy streamlined responses prior to and during a heat wave:
an underlying algorithm for estimating health outcomes from forecasted weather conditions,
a procedure to message heat health warnings, and
a set of recommended actions to be taken when warnings are issued.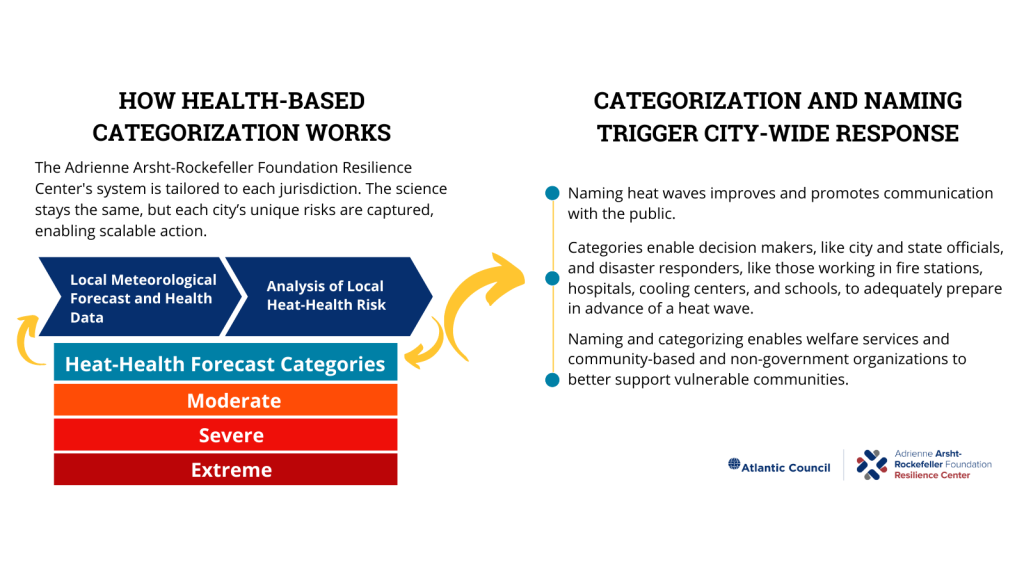 The tiered-category system is tailored to each jurisdiction and ideally integrated with the city's emergency and disaster response plans. The science stays the same across cities, but each city's unique risks are captured. The categories are based on the expected excess danger posed by the daytime and nighttime temperatures, humidity, and forecasted conditions in the thirty days preceding a heat wave, among other factors. Forecasts are updated from every fifteen minutes to twice a day, depending on local practice.
What does each category mean?
The categories capture how dangerous a heat wave is predicted to be for human health in the local area. The lowest category refers to heat waves that are forecasted to have a marked negative impact on human health. These will roughly account for 60 percent of all heat waves, and are still a dangerous heat event, particularly for vulnerable populations.
Subsequent categories indicate that the forecasted weather conditions are expected to be very or extremely dangerous to human health. Roughly 30 percent of all heat waves are expected to be very dangerous to human health, with 10 percent considered extremely dangerous. Everyone can be harmed by heat, and these higher-category heat waves require greater response from a broader population than lower-category heat waves.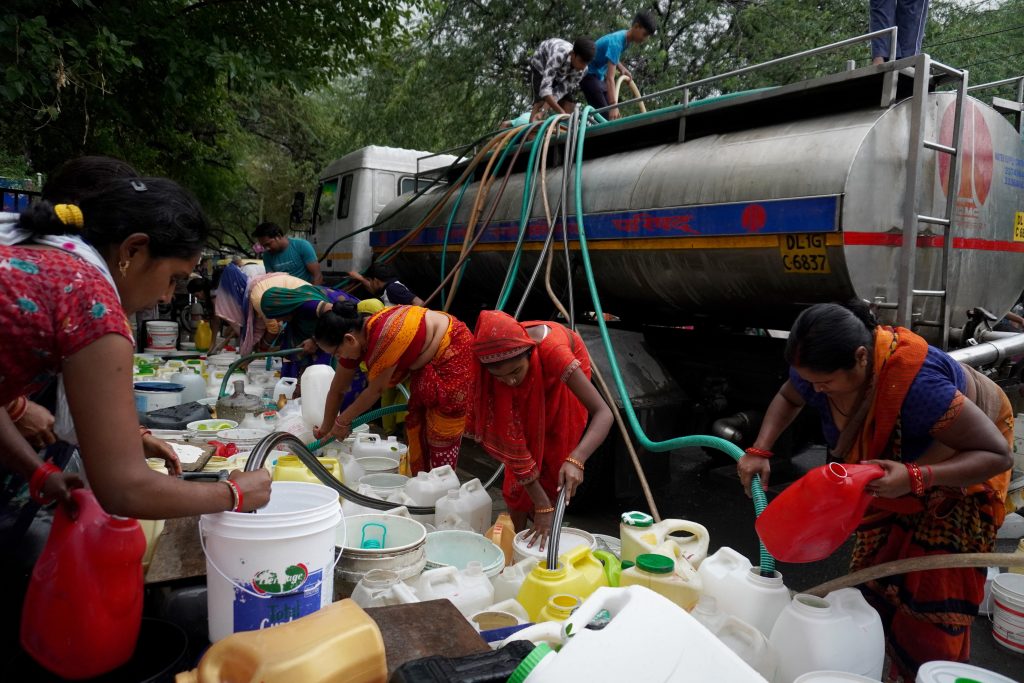 Each category may be used by officials to trigger heat-related communications to the public (e.g. through digital and/or news media) as well as a distinct set of safety measures and policies such as the opening of city pools and water parks, or the activation of a corps of community health workers or volunteers tasked with checking on elderly and other at-risk individuals.
Public awareness campaigns will utilize the simplicity of the tiered category system to help with risk communication, providing residents with the information and resources they need to protect themselves from the heat. Cities have the flexibility to decide at which level they issue a name. In some pilots of the system, the most severe heat waves are named.
How does a health-based heat wave naming and categorizing interface with existing warning systems?
While the methodology behind our categorization system is broadly applicable and transferrable, Arsht-Rock's system is tailored to each jurisdiction. One of the key inputs to Arsht-Rock's warning system is local forecast data supplied by the local meteorological/weather service. The overall system is designed to be easily adopted by weather officials as an enhancement of, rather than a replacement of, existing heat warning systems.
Warning categories are determined based on human health outcomes of historic weather conditions, creating a system that is specific to the region and its people. Each city's unique health and meteorological risks are captured, enabling the systems to be compared across jurisdictions and inform scalable policy.
Because this system can and does fit into existing warning response systems, each region has the authority to decide who is in charge at each stage and may leverage existing warning and response system operators. For instance, local meteorological agencies and health departments operating existing warning systems can be well positioned to operate this system as well.
Who will implement the health-based heat wave categorizing and naming system?
There are three groups of implementers of a heat-health naming and categorizing warning system: local leaders, warning system operators, and responders.
LOCAL LEADERS
Individuals who guide and influence community groups and organizations.
Including municipal, state, or national leaders who decide to adopt the system in their jurisdiction.
WARNING SYSTEM OPERATORS
Individuals and groups responsible for operating the warning system itself.
They monitor the system, call warnings, and develop locally relevant guidance and actions for responding to extreme heat. Operators generally include health departments, other local government agencies, and local heat-health naming and categorizing warning system communications teams.
RESPONDERS
Groups that take action once a heat warning is called.
Responders generally include those disseminating messages and guidance and providing essential services, such as government departments; hospitals, health clinics, and public services; key community and private sector organizations; press and media
Which responders need to be alerted once a heat wave category is called?
Some potential responders include but are not limited to:
Local government communications, such as media officers, press officers.
Local or national government departments, such as health, emergency response, labor and employment, education, environment and climate, agriculture, and tourism.
Infrastructure and public services, including utilities and electricity providers, water providers, transportation departments, public and private transit services, the fire department, public spaces (parks, gardens, cooling centers, etc.), and sanitation and waste management authorities.
Communications, dissemination, and community actors, such as media, press, and media and press officers within responder organizations.
Private and public health and human services and community groups, including the health department and medical professionals, emergency services, the education department, school districts and boards, community health clinics, senior and disabled care facilities, and social services— particularly for women and children, the elderly, and informal settlements and residents.
Private sector actors, including service providers such as hospitals, transit, infrastructure, water and electricity providers, employers in sectors that are at high heat risk, such as outdoor or uncooled workforces, distribution, fulfillment and warehouse workers, and those employed in industries with high heat exposure like construction.
Non-government community groups and individuals, including faith communities, can provide services that support heat health and disseminate the warnings and guidance to their communities.
What protocols are needed to alert responders, inform the public, and to provide services for each category?
Sub-national governments that have Heat Action Plans can use the warnings as triggers for activating different levels of the plan. In sub-national governments without Heat Action Plans, the operators overseeing the system could establish heat response plans, mobilize responders, and formalize communication channels with responders.
A heat warning system is only effective if the warnings and proper interventions are communicated to the public through trusted channels. Messengers and communicators of the system at all levels should meet people where they are in terms of content and communication channels. Responders should identify trusted and commonly used communication channels, such as those used for disaster planning and response efforts.
What can responders do when a medium, high, or extreme risk warning is called?
The basic response channels and communication channels for alerting the public of the heat wave category and recommended actions should remain the same no matter the severity of the warning. The recommended actions, guidance, and reach for the public, however, should be responsive to the severity of the heat wave.
The more dangerous the heat wave is, the wider the audience should be for alerts. For instance, in a low severity heat wave, responders may prioritize messaging that reaches the most at-risk groups, such as the elderly, outdoor and uncooled workers, and marginalized, informal, and low-wealth communities. These groups often lack access to cool environments, shade, and other resources to protect themselves from heat. In a high- or extreme-severity heat wave, the messaging would need to reach a wider audience and naming the heat wave is recommended.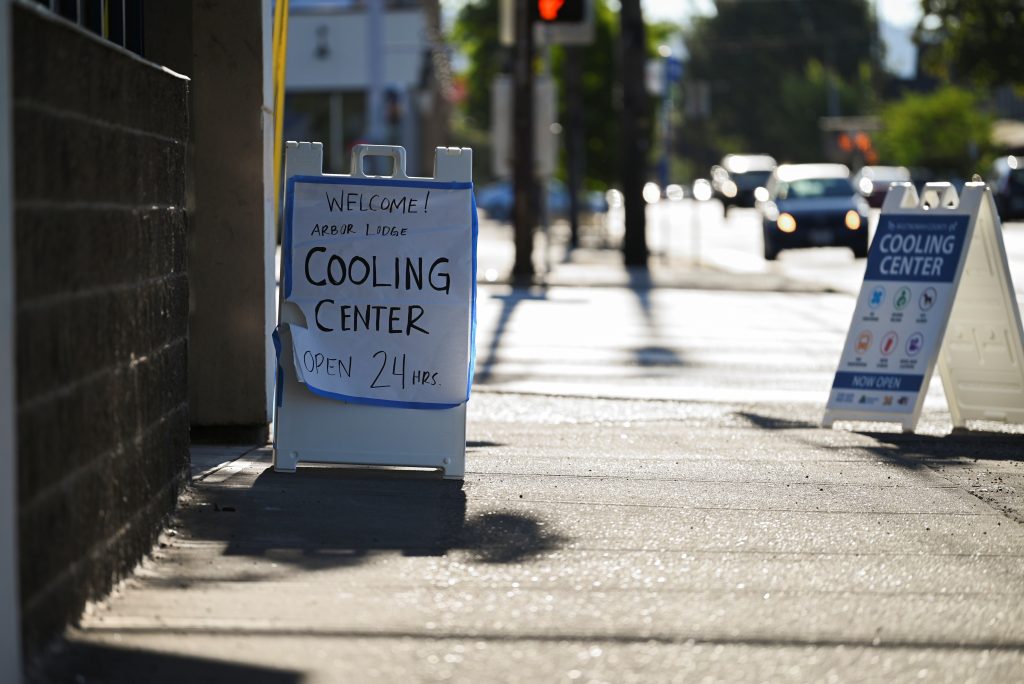 What steps can the public, community groups, and responders take to prepare for a heat wave?
Comprehensive response and resilience to heat engages the entire stakeholder map before, during, and after heat events. It reaches the public, especially those most vulnerable to heat-related death, with behavior changes and solutions that protect individuals from heat. Below are example responses, not a full set of recommendations.
INDIVIDUALS can take many no-cost or low-cost steps to prepare for a heat wave, including:
Learning about the signs and symptoms of heat stress and how to keep their home cooler during a heat wave
Being cautious, remaining hydrated, and seeking shade and cooling when exposed to the heat, particularly highly vulnerable people
Identifying their local cooling center or health-service group
Contacting at-risk family, friends, and community members when a heat warning is called
COMMUNITY GROUPS serving vulnerable populations can take actions including:
Stocking up on heat-health supplies, including water
Coordinating outreach volunteers
Year-round relationship management with their community
GOVERNMENTS & RESPONDERS will need to take different actions depending on the ways in which they engage with the public:
Hospitals can stock heat-stress-related supplies in advance of the hot season or when a warning is called
Electric utilities can balance grid demand when a warning is called to avoid blackouts or brown outs
Parks and water services can ensure public water and drinking fountains are operating
Resilience and adaptation measures that reduce the impact of severe heat on service providers' ability to serve the public, or on the public itself, through a myriad of innovative and proven solutions are essential.
Which cities are categorizing and naming severe heat waves?
On June 22, 2022, Arsht-Rock and the city of Seville, Spain unveiled ProMETEO Sevilla: a pioneering heat wave naming and categorization system—the first weather warning system in the world to name dangerous, forecasted heat events. The city, which announced plans to establish the methodology last year, delivered on its pledge to pilot the system this summer, establishing Seville as the first city in the world to categorize and name heat waves. Seville's system has 5 levels, and the two most severe categories are named. However, any heat wave that is low impact or above is still dangerous, and individuals, communities, and service providers should take precautions.
ProMETEO Sevilla is a collaboration between the City of Seville; Arsht-Rock's Extreme Heat Resilience Alliance (EHRA) Science Advisory Panel—comprising leading climatologists, social and behavioral scientists, and public health and disaster relief experts—AEMET, Spain's Meteorology Agency, the University of Sevilla, Pablo de Olavide University, the Carlos III Institute, the Spanish Office for Climate Change, and El Día Después.
As shown in the graphic, ProMETEO Sevilla explains the different categories of heat waves. In the ProMETEO Sevilla system, heat waves are ranked into five levels. When a heat wave is in the lower three (without impact, low impact, and medium impact), it is not given a name. When it ranks in one of the top two levels (elevated risk, very elevated risk), it is named.
Athens, Greece has also launched a pilot of a health-based heat wave categorization system in partnership with Arsht-Rock.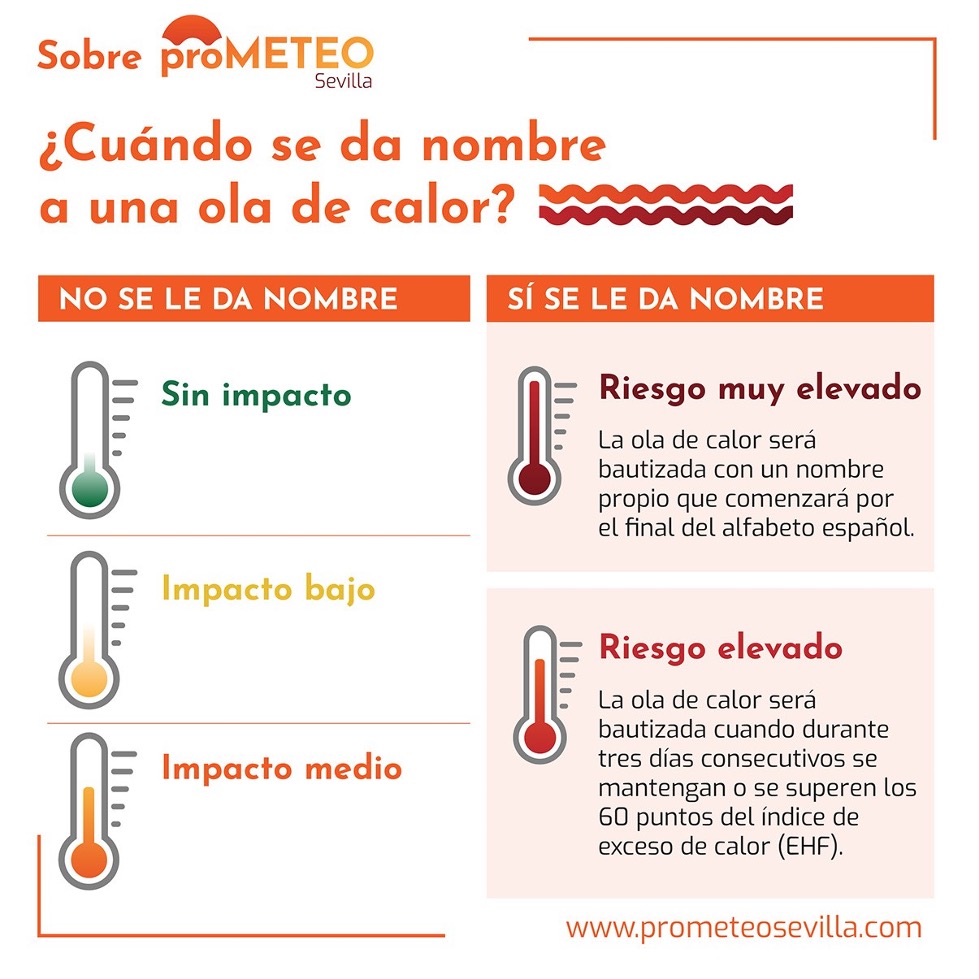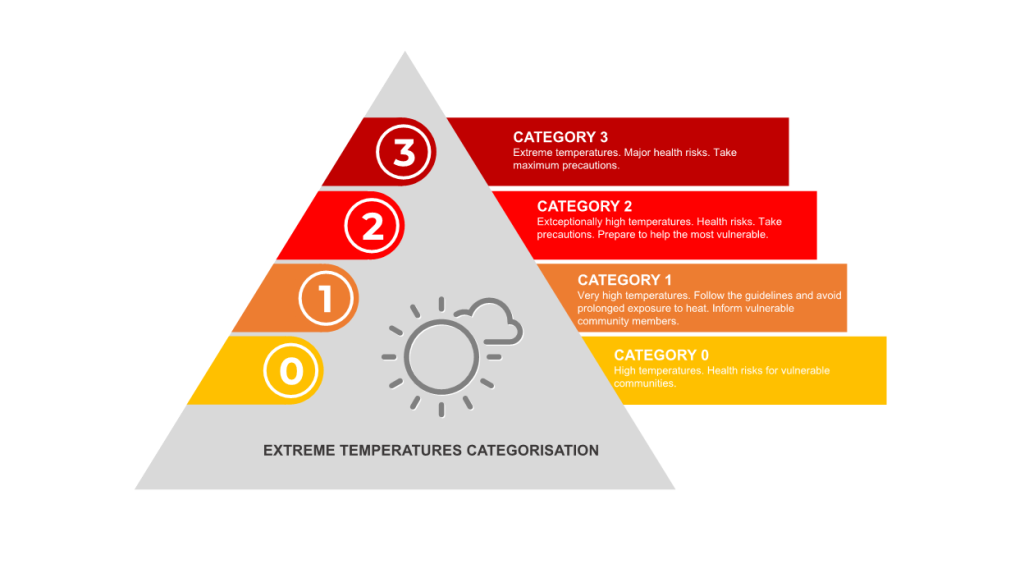 Arsht-Rock is also partnering with a small group of US cities to test the use of health-based heat wave categorization as optional, supplemental guidance to improve heat-health awareness, response, and resilience.
As more cities adopt health-based categorization, the science behind the system stays the same—continuously monitored by a team of meteorologists and heat experts—but each region's unique risks are captured by its system. Cities and their respective meteorological agencies and university partners also have the flexibility to decide at what risk level to name a heat wave and how to communicate the warning levels to their residents. Every category of heat wave has health risks, but this system allows cities and meteorological agencies to issue more sensitive warnings and respond proportionately to the risk, while encouraging planning year-round. By implementing this system, cities take an important step in protecting their residents' lives and livelihoods from heat.
Explore more