Dhaka North becomes the first city in Asia to appoint a Chief Heat Officer
Wed, May 3, 2023
NORTH DHAKA, BANGLADESH — May 3, 2023 — With temperatures rising in Asia at twice the rate of the global average and as cities prepare for another intense heat season, Mayor Atiqul Islam of Dhaka North City Corporation (DNCC), Bangladesh, is leading the way to become an official member of the Adrienne Arsht-Rockefeller Foundation Resilience Center's (Arsht-Rock) Global Champions for Heat Action platform, an initiative to help cities across the world tackle the challenges of extreme urban heat. Under this joint initiative, the first of its kind in Asia, Bushra Afreen has been appointed as the city's first-ever "Chief Heat Officer" (CHO).
By 2050, heat waves will affect the lives and livelihood of more than 3.5 billion people worldwide – half of them living in urban centers. Extreme heat poses a major threat to cities and will continue to grow more dangerous each year. North Dhaka is particularly vulnerable to the urban heat island effect due to its densely populated urban core, with hotspots in the city more than 10°C higher than the surrounding countryside. These extreme heat conditions are threating lives and causing labor productivity losses greater than 8 percent of the city's annual output. With the number of dangerously hot days estimated to double by 2050, the impacts of extreme heat will grow exponentially – with a greater burden falling on women and girls.
As CHO, Afreen will be responsible for leading efforts to make her city safer in the face of extreme heat. By unifying North Dhaka's city-wide planning and responses to extreme heat, she will accelerate existing heat awareness and protection efforts, and initiate new work to reduce the risks and impacts of extreme heat for its 15 million residents, particularly its most vulnerable neighborhoods and people.
"I'm thrilled to join a global movement of city leaders and experts committed to protecting people and communities from extreme heat in my city" said Afreen. "As a native of Dhaka, I know firsthand the urgent need for action to address this growing danger, where temperatures are rising at an alarming rate, and informal communities, migrants, and women and girls, are disproportionately affected. Every day, two thousand people move to Dhaka, and 70 percent of them do so because of climate-related disasters."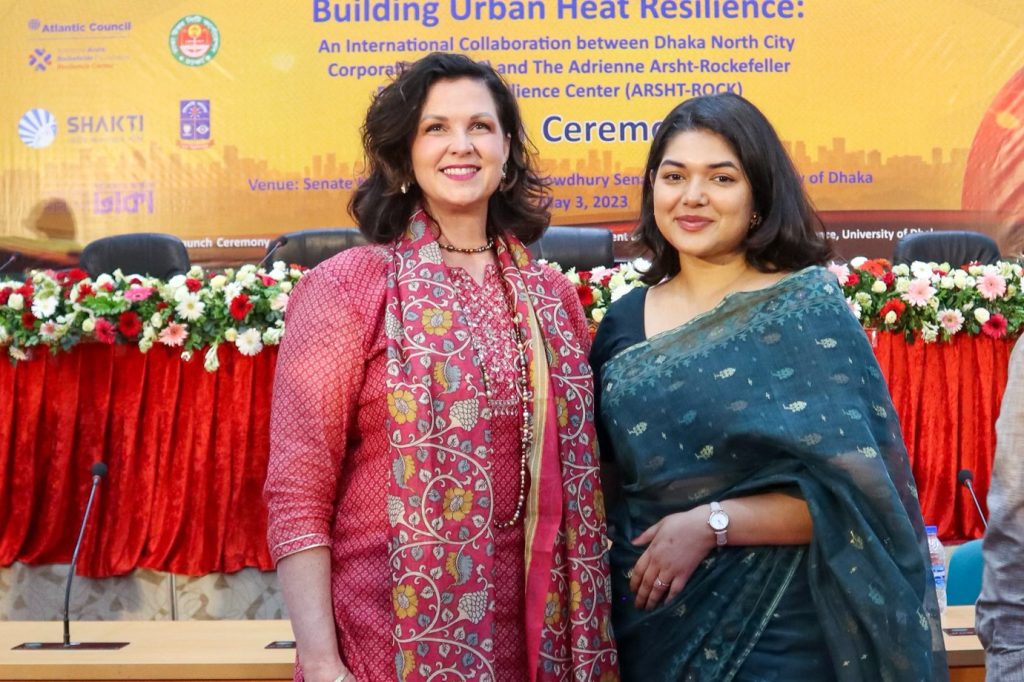 Afreen brings a breadth of experience and expertise to her role as North Dhaka's first-ever Chief Heat Officer. With a background in social welfare, government, and micro-finance and innovation, Afreen is well-positioned to address the challenges posed by extreme heat in the region.
Prior to her appointment, Afreen served as the Executive of Social Welfare at her family's export-oriented garment business in Asulia, Bangladesh. In this capacity, she oversaw the implementation of measures to support and champion working mothers, including the provision of company-sponsored feeding rooms, child-care, and daycare facilities. Not content with just improving the welfare of working mothers, Afreen established a task force to reduce heat on production floors and developed sustainable fashion options for clients. Afreen's expertise also extends to micro-finance schemes and field management from her time at the Shakti Foundation. Afreen studied global development at Queen's University in Kingston, Ontario in Canada, and spent a year in Ghana studying culture and local government.
"Today is a special day in my city. I am proud to announce the first Chief Heat Officer for Dhaka North City Corporation – and the first in Asia," said Mayor Atiqul Islam. "Our city and its residents face extreme heat at every turn and our communities' most vulnerable need protection from this climate-driven threat that is robbing people of their health and livelihoods. With the appointment of CHO Bushra Afreen, I am confident we can bring awareness and solutions for a safer, cooler Dhaka."
"Extreme heat is acting like a pressure cooker on cities all over the world, and as populations bulge in places like North Dhaka, a Chief Heat Officer is essential," said Kathy Baughman McLeod, Senior Vice President, and Director of Arsht-Rock. "Bushra Afreen's role can serve as a model for cities all over South Asia – and Arsht-Rock is proud to be her partner and co-deliver solutions for protecting communities across NDCC."
Shakti Foundation will be collaborating with Afreen to develop inclusive solutions to extreme heat. As a key local partner to Arsht-Rock and the DNCC, they have worked for the past forty years to alleviate poverty for underprivileged women across Bangladesh. Shakti will provide strategic and administrative support to the initiative. "Shakti Foundation is seeing the effects of heat across our 400,000 plus female clients throughout Bangladesh, especially in highly urbanized informal settlements," said Sohani Huq Elian, Director, Climate Change Program. "We are pleased to be a partner in this exciting global initiative led by Arsht-Rock Resilience Center that brings a Chief Heat Officer to Dhaka and accelerates our efforts to protect people as the city continues to heat and grow."
Mayor Islam and Dhaka North are the seventh mayor and city, respectively, to create a Chief Heat Officer as part of the City Champions for Heat Action initiative, closely following founding members in Miami-Dade County, U.S.; Athens, Greece; Freetown, Sierra Leone; Santiago, Chile; Monterrey, Mexico; and Melbourne, Australia. Further, Arsht-Rock and the United Nations (UN-Habitat) collaborate to support a Global CHO.
About the Adrienne-Arsht Rockefeller Foundation Resilience Center
The Adrienne Arsht-Rockefeller Foundation Resilience Center (Arsht-Rock) builds individual and community resilience in the face of climate impacts. We pledge to reach one billion people around the world with resilience solutions to climate change by 2030.  For more information visit onebillionresilient.org, or follow us on Twitter and LinkedIn.
Explore more