Explore more city chapters
Global summary
The world is burning. Unfortunately, that's not an exaggeration. Climate-driven heat is changing the way we live and work. In the Northern Hemisphere, this past summer painted a stark and terrifying picture of the devastating impacts of our steadily warming planet, where extreme heat currently kills more people worldwide than any other climate-driven disaster.
A July heat wave that blanketed huge swaths of the United States set more than 350 new daily high-temperature records—including in Boston, Massachusetts, and Newark, New Jersey, which both hit 37.7˚C (100°F), and Providence, Rhode Island, which reached 35.5˚C (96°F). The situation in Europe proved even more dire: an unprecedented heat wave sent temperatures soaring in mid-July, killing some 2,700 people in Spain and Portugal before moving north into France and the United Kingdom, setting new records in Paris (nearly 43.3˚C/110°F) and London (40˚C/104°F). Meanwhile, record wildfires raging across the continent destroyed hundreds of thousands of hectares, creating literal hellscapes and exacerbating Europe's worst drought in at least 500 years. Climate hell recently landed in Pakistan, starting with a day in Jacobabad that reached 51˚C (124°F) in May followed by a heat wave in June that scientists say is the driving force behind flooding that put one-third of the country under water and took more than 1,500 lives. Thousands of miles to the north, southern China experienced temperatures as high as 45˚C (113F°), causing massive disruptions to the electrical grid, transportation networks, supply chains, and food systems, which made major cities practically unlivable.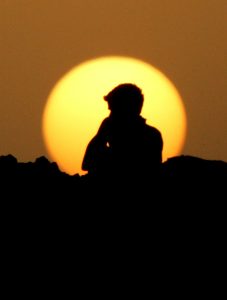 The danger posed by extreme heat in urban centers—particularly in the global South—defies overestimation. By 2050, more than 970 cities will experience average summertime highs of 35˚C (95°F)—nearly triple the 354 cities that already do. The urban population exposed to these sky-high temperatures will increase by 800 percent, reaching 1.6 billion by mid century.
Dense concentrations of buildings and paved surfaces absorb and amplify heat—especially in areas with little tree cover or green space—creating heat islands where poor and minority neighborhoods often bear the brunt of broiling temperatures. In the United States, heat-related deaths disproportionately affect Native American and Black communities, revealing stark inequalities associated with the climate crisis.
Against this harrowing backdrop, people are flooding into cities, driven by failing farms, ever-burgeoning wildfires, and other climate-induced pressures. Presently, an estimated 83 percent of the US population lives in urban areas, up from 64 percent in 1950. By 2050, only 11 percent of the US population—and 32 percent of the global population—is projected to live outside of them.
Heat's disproportionate impact on cities—and the ironic reality that more and more people are flocking to them due to climate change's burgeoning impacts elsewhere—compelled us to quantify and explore the seismic ramifications of our burning planet.
This report is a continuation of an economic study undertaken in partnership with Vivid Economics. In phase one of this work, released in August 2021, we found that worker productivity losses totaled $100 billion in the United States alone in 2020, a number which will double in 2030 and rise to $500 billion by 2050.
Phase 2, Hot Cities, Chilled Economies: Impacts of Extreme Heat on Global Cities, assesses the social and economic effects as viewed through the prism of twelve cities that are already enduring and addressing dramatic impacts of extreme heat. We examine heat-related productivity losses and the effects on workers and identify key sectors of the economy where heat's pernicious effects are laid bare.
Main takeaways
Heat reduces labor productivity in a wide range of ways. Heat can cause direct work interruptions where regulation or employer policies stop work to protect workers from dangerous conditions. Additional breaks to rest and rehydrate regularly interrupt work even when there is no formal stoppage. Even during active working time, the body's natural self-regulation under conditions of heat stress may cause people to move more slowly to conserve effort and energy. Workers in hot conditions are more prone to mistakes and reduced decision-making capacity, which can have impacts as minor as needing to redraft a document or as severe as causing injury or death.
Losses from heat-related reductions in worker productivity are high and mounting. In an average year, these losses total USD 44 billion across the twelve cities in 2020, and the amount will rise to USD 84 billion by 2050 without action to reduce emissions.1 Losses as a proportion of total output are high across the board, ranging from 0.1 percent in Santiago to 8.3 percent in Dhaka. To put the figures into a global context, estimated economic losses from all natural catastrophes were valued at around 0.3 percent of the world's output in 2021.2 In addition to the USD 44 billion, losses to productivity also affect sales, income, and real estate tax revenues: as losses grow, they will increasingly constrain cities' fiscal headroom for investment in public services.
These reductions in worker productivity may affect workers' incomes. In standard economic models, employers pay their workers based on their productivity. As temperatures rise and expected labor productivity falls (or grows more slowly), wages and salaries are likely to respond in kind. The effects are even more direct for hourly or informal workers who are paid only when they work and may face increasing work stoppages or choices between working in dangerous heat conditions or having no income.
Cities in the global South face greater, more rapidly increasing impacts. These cities tend to have hotter and more humid climates, meaning they face a greater challenge from heat, and their more labor-intensive economies and lower access to active cooling (AC) technologies mean they are more vulnerable to heat. This is borne out in the study's results, with losses from worker productivity as a share of output highest in low- or middle-income cities in Asia (Dhaka, 8.3 percent; Bangkok, 4.9 percent; New Delhi, 4.2 percent) and Africa (Freetown, 3.5 percent). Further, as these cities expand more rapidly than those in developed countries, so do estimated losses, which in dollar terms are projected to increase fivefold in Freetown and to triple in Buenos Aires.
Impacts fall most heavily on those least able to bear them. In many cities, the districts most exposed to heat are also home to poor or marginalized communities: examples include Villa 31, an informal settlement in Buenos Aires, and Kamrangirchar in Dhaka, where temperatures are between 10°C and 15°C higher than in surrounding areas. Across all cities, losses in productivity—and therefore wages—are concentrated in sectors reliant on outdoor manual work where wages tend to be lower than average.
Heat has gendered impacts. For this analysis, data availability was insufficient globally to determine the differences of heat's economic impacts by gender. Broadly, further work is needed on gender and heat. However, we know that climate change has a disproportionate impact on women. Close to 80 percent of people displaced by climate change are women and 70 percent of the 1.3 billion people living in conditions of poverty are women. In urban areas, 40 percent of the poorest households are headed by women. In the textile market of Old Ahmedabad, New Delhi, female workers pack and sew bales of clothes and transport it either by carrying the parcel or by using pedal rickshaws or carts. They are paid by parcel delivered; this work only begins after 1:00 p.m., which leaves them no option but to work in the scorching heat. They cannot miss a day's labor without risking forgone wages. Often, they must take their children with them, putting their dependents at risk of heat health impacts. Further, indoor work without air conditioning in female-dominated professions such as garment manufacturing, health and home care, and teachers in sweltering classrooms are not captured in the data. The diversity of working environments across these sectors and the lack of information on indoor temperatures makes assessing risk more difficult, and may mean less attention is devoted to providing solutions for safer, more comfortable conditions for these workers.
How heat affects economies and societies varies from city to city. The study highlights a diversity of groups impacted by heat—from informal traders in Dhaka and port workers in Freetown to home care workers in Sydney and office workers in London. The richness of impacts identified and potential solutions is presented in twelve city-specific papers accompanying this overview.
Ultimately, our findings are intended to drive climate adaptation and investment in low-cost, traditional actions and visionary interventions that cool cities and protect vulnerable people—urgent needs that simply cannot be overstated. It's never been clearer that cities worldwide must mobilize immediately to implement comprehensive, far-reaching, and unprecedented climate adaptation and mitigation solutions to protect their residents—especially their most vulnerable populations.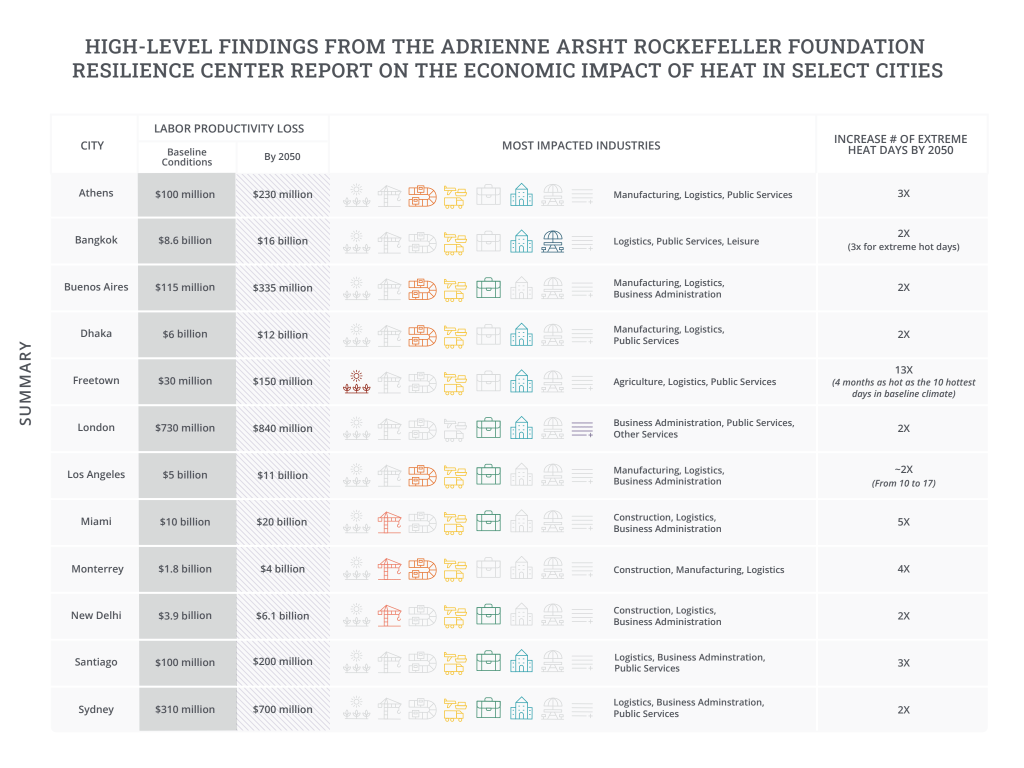 City-specific insights
In this report, we examined how heat may change the economies of twelve cities across the world. A snapshot of city-specific insights from the report makes it clear that urgent action is needed to keep people safe from heat's effects.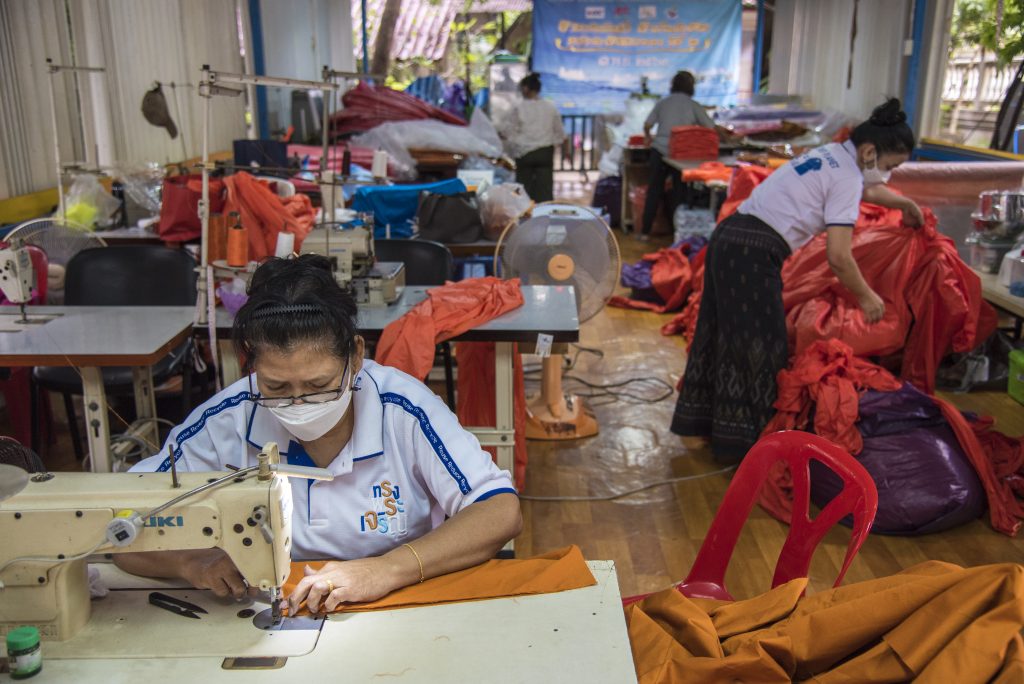 In Bangkok…
the highest worker productivity-related economic losses from the heat are felt by those least able to bear them. In sectors such as garment manufacturing, transport, and retail trade, where wages can be lower than average, losses already amount to around 10 percent of income.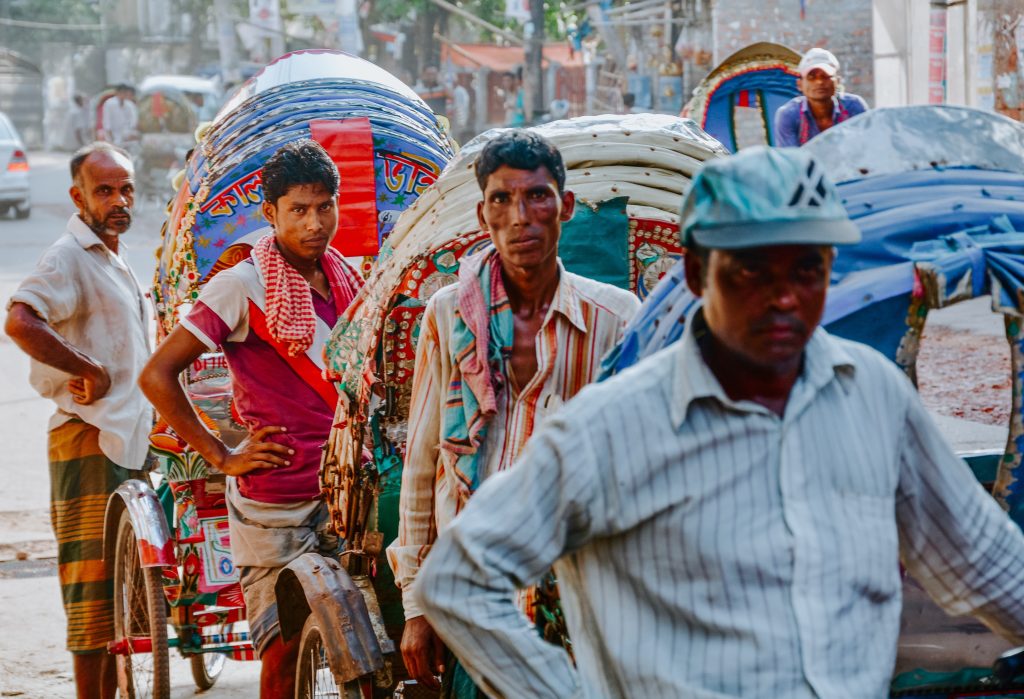 In Dhaka…
heat stress impairs labor productivity more than any other city in this study, with losses estimated at 8 percent of the city's gross domestic product (GDP) currently, and estimated to increase to 10 percent of the city's GDP by 2050 without action to reduce emissions or adapt.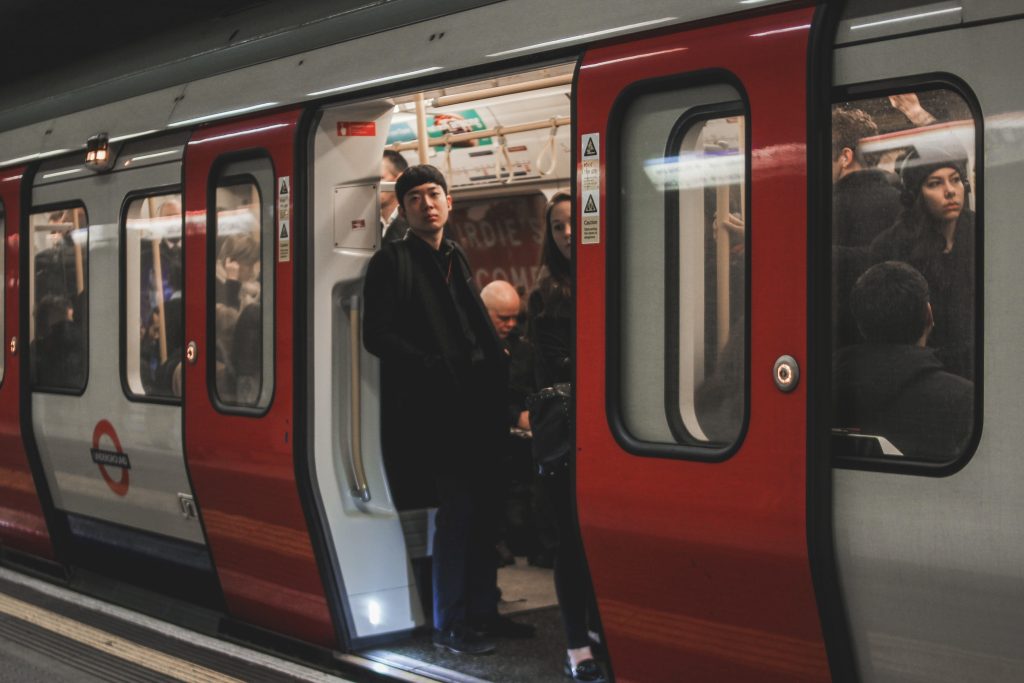 In London…
temperatures on poorly ventilated lines of the London Underground often exceed legal limits for transporting cattle (30°C). In July 2022, London reached temperatures above 40°C. Given the city's generally mild climate, much of the infrastructure is unprepared for heat waves.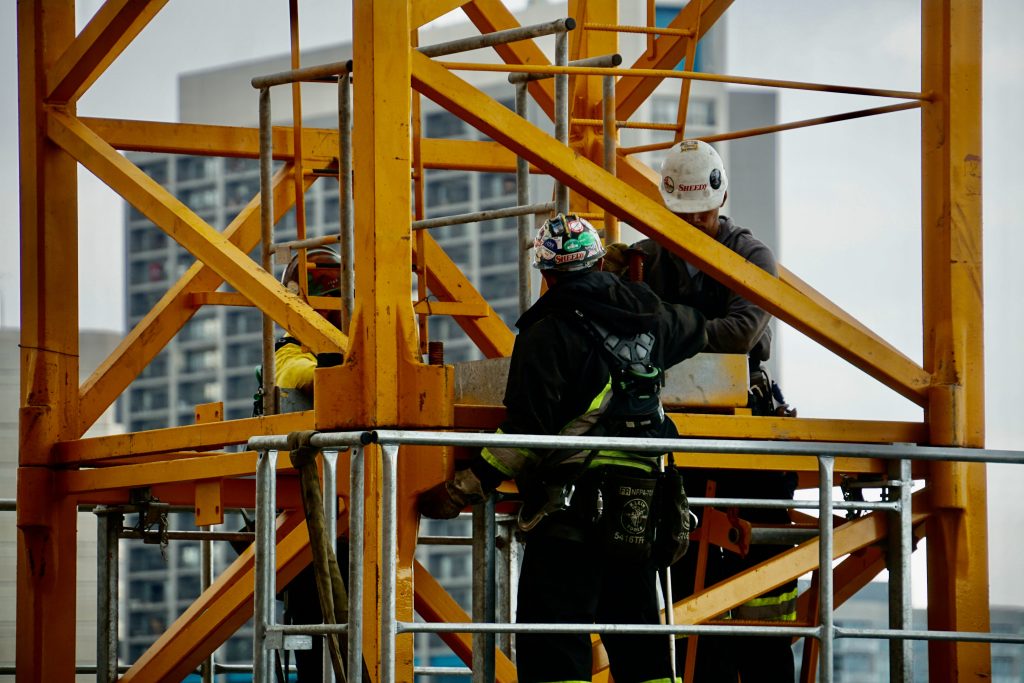 In Miami…
over $10 billion is lost to heat under current conditions—more than Miami-Dade County's entire annual budget. By 2050, without action to reduce emissions or adapt, losses could double to more than $20 billion. Action at the urban level can be transformational and deliver climate solutions and sustainable, climate-resilient development.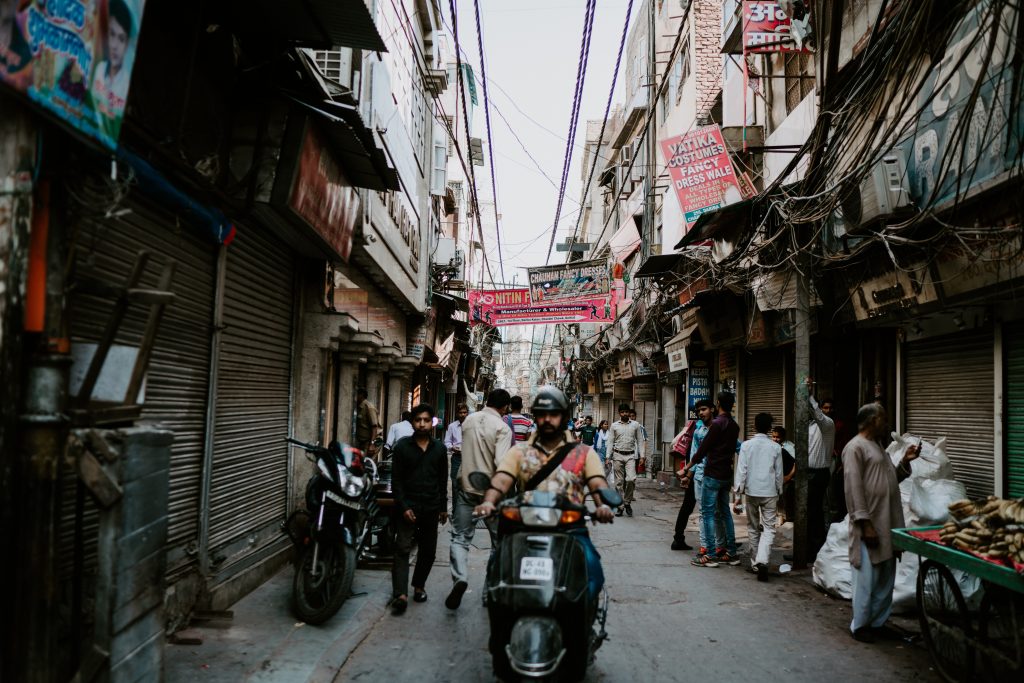 In New Delhi…
the expected economic loss to heat will rise to almost 5 percent by 2050—that's $6.1 billion.
Solutions
The good news is that people don't have to die from heat. Cities can and are making bold strides to enhance climate resilience and reduce heat impacts without straining already stressed energy grids, increasing dependency on fossil fuels, or adding to the emissions crisis.
Measures available span three main types:
Planning/policy: Measures to enhance worker protection can, for example, limit working during very hot periods, or mandate cooling measures in building codes. For example, Los Angeles mandates regular work breaks for outdoor workers.

Communications/outreach: Early warning systems or campaigns can promote behavioral changes such as increasing hydration and resting periods. Athens recently introduced a system of heat alerts and categorization of heat waves to help residents and visitors take appropriate precautions, while Seville introduced heat wave naming in concert with categorization that resulted in Heat Wave Zoe, in July 2022.

Investment in the built environment and nature-based solutions: Local cooling infrastructure includes tree canopies, cool pavements, roofs and walls, cooling centers, or public fountains. Cities such as Miami and Freetown have adopted ambitious tree planting campaigns, while Los Angeles is investing in cool roofs.
How can cities reduce the impacts of heat?
We have partnered with Freetown's chief heat officer and the women who run the outdoor community markets on a novel market shading project to protect vendors and shoppers alike from the punishing heat and create safer outdoor marketplaces that are the lifeblood of Freetown's local economy.
There are some very early policy solutions emerging as well. The California legislation signed by Governor Gavin Newsom earlier this month (September 2022), requiring a statewide heat wave categorization system linked to expected health outcomes, will protect people, including workers most at risk, from the threat of extreme heat. We are collaborating with the state of California and cities across the globe, like Seville and Athens, to devise and pilot similar lifesaving heat wave naming and categorization systems tied to expected heat-health outcomes.
Across all cities, impacts of the magnitude highlighted in this work call for rapid scaling of existing initiatives.
The Adrienne Arsht-Rockefeller Foundation Resilience Center (Arsht-Rock), along with our key local and global community partners, has developed a portfolio of tools, policies, and projects that cities in all cities can draw from to begin building heat resiliency—including the Heat Action Platform, an engagement-oriented tool for finding guidance, existing resources, and tailor-made solutions for reducing the human and economic impacts of extreme heat. Developed for practitioners, policy makers, and development finance institutions, its applications include creating a heat action plan, embedding heat-risk reduction strategies into existing plans, and making the case for investments in protecting people, communities, and local economies from heat.
Make no mistake: climate-driven heat—and the havoc it wreaks on urban economies—is one of the greatest threats to life and livelihoods we now face. The necessary science, predictive tools, and policy expertise are in place. The essential drivers to mobilize cooling capital must soon follow. Understanding not only the magnitude of those impacts, but their geographic, social, and economic effects is the first step in reducing the loss and human suffering that comes with it.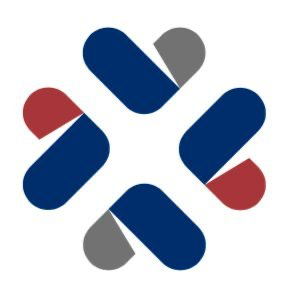 We sincerely thank Adrienne Arsht and The Rockefeller Foundation for their support of our work.
Special thanks go to Bank of America for supporting this report.
Endnotes and methodology
1 The 2020 values reflect economic conditions around 2020. In many cases the analysis considers 2019 calendar year data instead of 2020 to avoid capturing the effects of COVID-19 and highlights average losses in a typical year. Heat conditions reflect the baseline climate (1986-2005). See methodology for details.
2 "Hurricanes, Cold Waves, Tornadoes: Weather Disasters in USA Dominate Natural Disaster Losses in 2021," MunichRe (website), 2022, https://www.munichre.com/en/company/media-relations/media-information-and-corporate-news/media-information/2022/natural-disaster-losses-2021.html; and International Monetary Fund, World Economic Outlook Database, 2022, https://www.imf.org/en/Publications/WEO/weo-database/2022/April.