Miami's Extreme Heat Action Plan: a blueprint to reduce the health and economic impacts of extreme heat  
Miami's Extreme Heat Action Plan will inform, prepare, and protect residents for extreme heat events next summer and beyond.
Wed, Dec 14, 2022
While scorching summer months may seem a ways away for some, Miami-Dade County is already taking bold action against extreme heat. In December 2022, they launched the Extreme Heat Action Plan to inform, prepare, and protect Miami-Dade County residents for extreme heat events next summer and beyond.
The plan will build resilience to the health and economic impacts of intensifying extreme heat through three core objectives:
cool neighborhoods through green solutions such as increasing the three canopy and vegetation;
increase homes' and emergency facilities' access to efficient, reliable, and affordable cooling; and
increase outreach and education efforts on the risks of extreme heat.
Within these categories, Mayor Daniella Levine Cava, a member of Arsht-Rock's Extreme Heat Resilience Alliance, and Jane Gilbert, the county's Chief Heat Officer (CHO), have outlined nineteen key actions that will prepare and protect people in the county from increasing instances of extreme heat.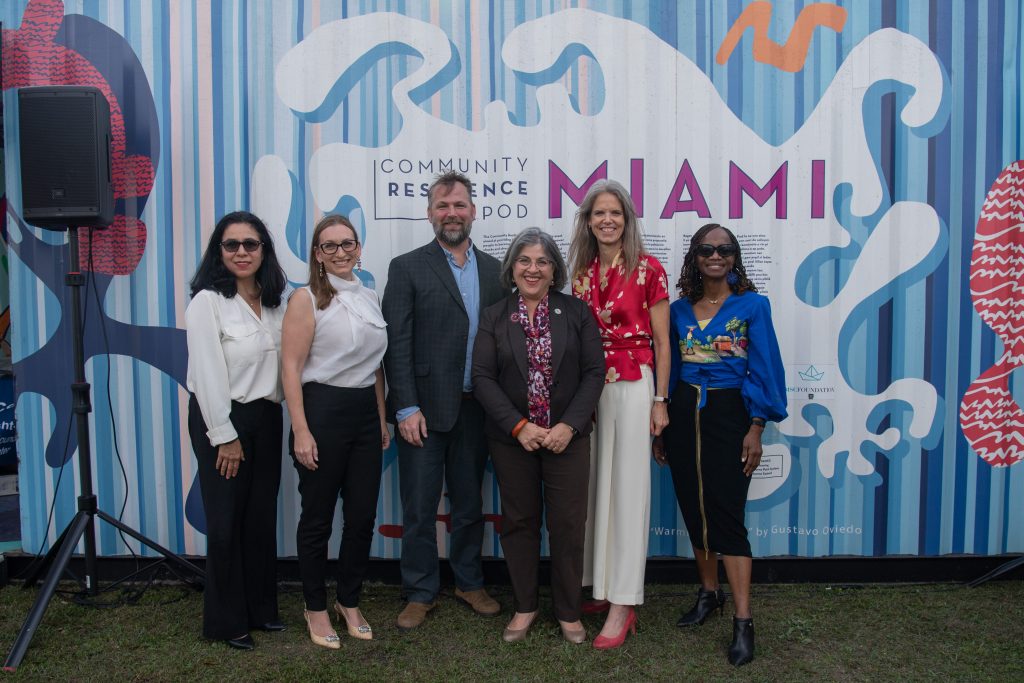 A growing threat for Miami
South Florida is no stranger to heat. While the region has always experienced a sub-tropical climate of hot and humid weather, in recent years, temperatures have risen dramatically above the norm. The 6th National Climate Risk Assessment report on heat estimated that in 2023 Miami-Dade County should expect close to fifty days with a heat index at or above 100 degrees. By 2053 that number will rise to 91 days. This increase in dangerously high heat has significant impacts on human health and safety, with rising hospitalizations and heat-related deaths.
The Extreme Heat Action Plan is significant in how it addresses the health and economic burdens caused by extreme heat, as well as its focus on community engagement and creating equitable solutions.
The economic and social impacts of extreme heat
The urban heat island effect, caused by local development and a loss of vegetation and tree canopy, is further contributing to the rising temperatures in Miami-Dade County. And while it has gotten steadily hotter throughout developed areas of the county, lower-income neighborhoods which often have higher land surface temperatures were found to be the most affected. This vulnerability to extreme heat is exacerbated by the fact that lower-income people are both less likely to have access to adequate cooling and less likely to have health insurance.
Jane Gilbert highlighted this pressing issue during her remarks at the launch event for the Extreme Heat Action Plan. "While we're all impacted, the health and economic burdens are felt most by those who work outside, live in substandard housing, use public transit and have to spend more time outdoors, and live in urban heat islands…This plan starts with actions preparing and protecting our most vulnerable, that is the first goal. The second is to accelerate and work to build and retrofit homes that are more safe and affordable. The third is to remove barriers and advance work to cool our neighborhoods."
Among the barriers that the Action Plan will address are economic burdens felt by everyone from outdoor workers who are losing valuable hours of productive work time to those indoors who see the cost of cooling their homes and offices skyrocket.  "A majority of our low-income residents are energy burdened and a quarter of them are extremely energy burdened, meaning they're paying over 11% of their monthly income on utility costs," Gilbert stated at the event.  The toll born by those working outdoors is just as high: extreme heat is now causing annual losses of more than $10 billion due to reduced labor productivity, a number that could double by 2050.  
Planting the seeds of change: Miami-Dade's tree canopy initiative
In addition to taking steps to reduce the economic impacts of extreme heat now, the Heat Action Plan also gives a blueprint for investing in solutions that will cool the County in the years to come. One of the most important and effective initiatives is expanding the tree canopy to 30 percent. As the Heat Action Plan states, "trees not only mitigate the urban heat island effect but also reduce energy use, improve air quality, enhance stormwater management, and water quality, provide wildlife habitat, and sequester carbon."  
Under this bold plan, Miami-Dade will expand and protect trees on County land, with an emphasis on planting in areas with schools, priority bus stops and pedestrian walkways with "the highest urban heat island effect, lowest current tree canopy, and high pedestrian and transit use." Through a citizen science initiative led by Florida International University, the County has identified the areas that are most vulnerable to the urban heat island effect. The County is also targeting areas with less than 20 percent tree canopy coverage and more than 20 percent poverty rates. Through this initiative, Miami-Dade is taking an important step towards creating a more equitable and cooler future for the County.
Building resilience to heat: local action, global leadership
As heat waves become more frequent and more intense globally, Miami's plan is a critical example of how cities can lead on resilience solutions.
"The actions in the plan you've launched today will help Miami address those challenges of heat and do so in an equitable way," Arsht-Rock's Director of Extreme Heat Initiatives Kurt Shickman said at the launch event. "I think it can be a model for other cities looking to implement wholistic, practical actions that will build resilience to heat."
Miami's Action Plan builds off the success of the county's 2022 Heat Season, during which Arsht-Rock collaborated with Jane Gilbert, Miami's Chief Heat Officer (CHO), to raise awareness about the dangers of extreme heat through a comprehensive PSA campaign. Mayor Levine Cava was the world's first to appoint a Chief Heat Officer dedicated to delivering local solutions to heat. Now, Arsht-Rock works with eight CHOs across five continents, including a Global CHO within the UN system.
Financing the future
Financing is one of the largest hurdles to building resilience within these vulnerable communities.
Arsht-Rock is working with Miami-Dade to identify passive cooling projects under their Extreme Heat Action Plan that can be funded with Arsht-Rock's new initiative, the Cool Capital Stack. This investment pipeline, which has already identified $750 million worth of projects and technologies worldwide, including capital projects in Miami's heat plan, will mobilize funding for cooling solutions that protect people, communities, and local economies from the impacts of extreme heat.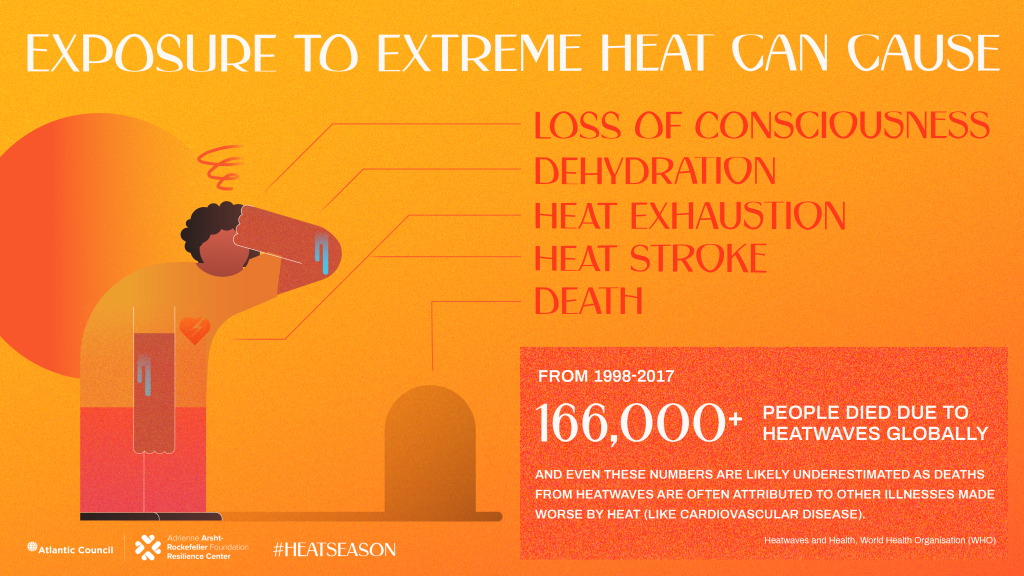 Join the #HeatSeason Campaign
Heat is not just a climate risk: it's a serious threat to human health, economies, and development. By making the invisible threat of heat visible, we're empowering people to make the changes that protect their communities and themselves from its impacts.
Download and share the campaign in English, German, Greek French, and Spanish. Tag @ArshtRock and use #HeatSeason to join the campaign!
Learn more about Arsht Rock's work on heat